Introducing Off Road Designs all new Remote Area Support Vehicles .
Off Road Designs R.A.S.V. Camper Trailers.
Leading the way in Off Road Touring and Design.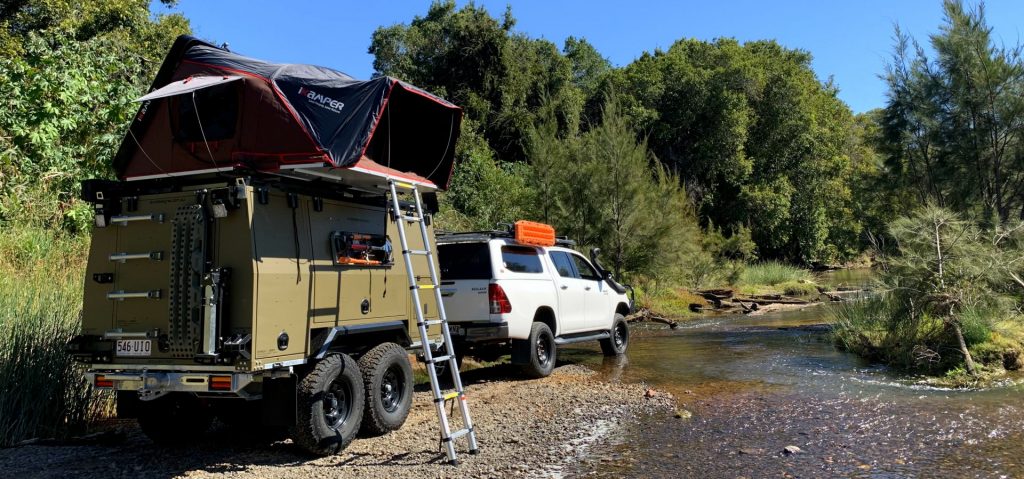 100% Australian made.
R.A.S.V. Camper Trailers.
Extreme Off Road Camper trailers. From $50,790.
Now you can help plan, design and fit out your own trailer model.
By starting off with our heavy duty base trailer platform. Then adding or subtracting accessories and options to suit your individual needs and budget.
We are more than happy to walk you through our R.A.S.V. Camper Trailers and show you our standard fit out options. Then quote on any additions designs and upgrades that you would like to use in your new trailer build.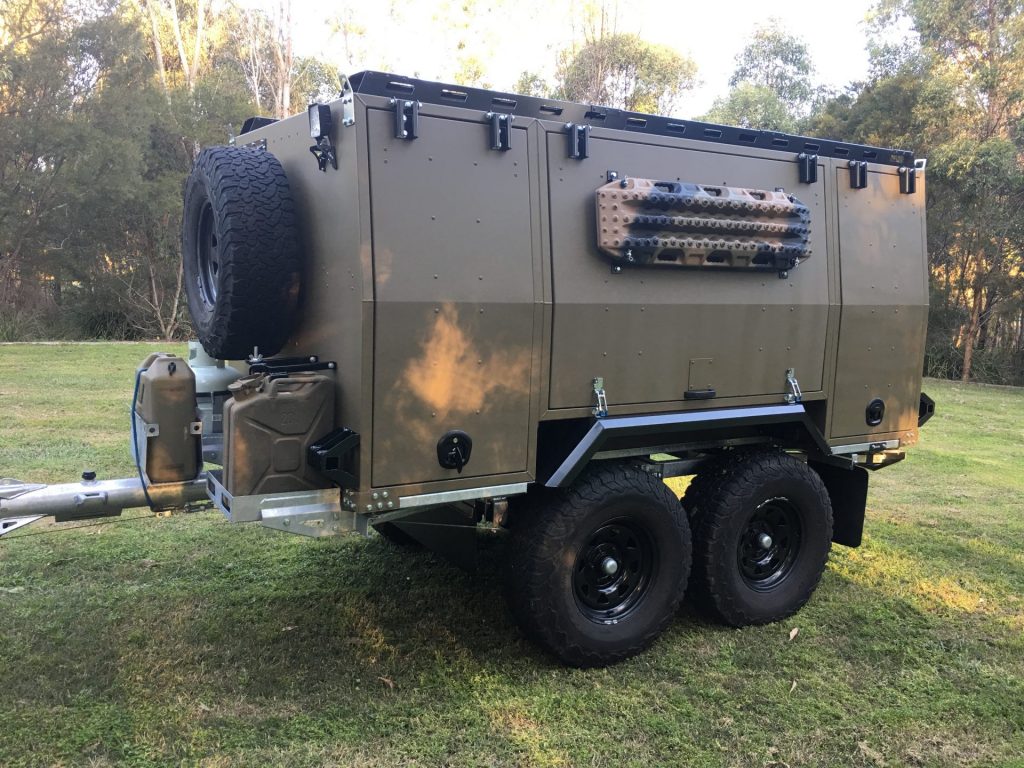 R.A.S.V. Camper Trailers are a revolutionary new off road camper trailer design. Specifically built for those who are serious about outback adventure.
So what's included in my R.A.S.V. Camper Trailer?
LET'S START WITH TRAILER WEIGHTS AND DIMENSIONS.
ATM: 1373kg.
GVM: 3500kg.
Ball Weight: 55kg.
Total Length: 4.78 M
Width: 1.92 M
Height: 2.2 M Excluding Roof Top Tent
Internal Storage Capacity: 6,500 LTRS
Our RASV Off Road Trailers have fully monocoque constructed bodies that are made from high grade 2.5mm laser cut and CNC formed and welded aluminium plate. In addition to that we also assemble all of our aluminium components with 6.4 mm structural rivets and incorporate strategically welded joints through out the design for added strength.
The monocoque body is made up of 9 large individual aluminium storage compartments which are all interconnected by internal ventilation openings to allow for even air pressurisation through out the entire body. The positive air pressurisation is achieved with the use of an external air pressurisation system with dual serviceable air filters. Keeping the entire trailer free from dust on even the toughest outback roads.
The body comes complete with a total of 15 internally mounted storage shelves with rubber lined carpet inserts. These inserts are also included in the bases of both rear slide out draws and the large top storage shelf.
Each trailer comes with two portable car fridge storage compartments with twin 65ltr lock in – lock out fridge slides.
Trailer Storage.
Our huge rear storage area has a large pull out top draw with eight cargo tie down points, as well as a side and rear storage guard. To stop items from rolling forward or dropping down into the battery compartment below. Directly under the top draw is another huge slide out storage area capable of carrying 125 kilograms of equipment.
This trailer is fitted with total of 7 external gas strut assisted doors with internal bracing for added strength and support to stop any flexing under load from the gas struts.
6 Keyed alike lockable black whale tail compression door latch handles and locks.
4 Heavy duty rear door ladder rungs.
14 Heavy duty door hinges.
Rubber dust seals on all doors.
All doors, internal and external body panels come pre drilled with captured nuts installed to accommodate all of our bolt on upgrades and accessories.
The roof sections of the main cabinets and under side of the large internal shelf also have structural reinforcing supports for added strength.
Both external Wheel arches can easily be unbolted and replaced if damaged off road.
Our Trailers come in 3 standard powder coat colours.
-ARMY GREEN – GRAPHITE GREY – ANTARCTIC WHITE-
Trailer colours can also be customised to any of the Dulux powder coat colour range on request.
For Chassis and Frame Design Details CLICK HERE

Kitchen and food preparation area.
The left side of the R.A.S.V.
Converts into a large L-shaped kitchen with a 1.4 mtr x 600mm folding kitchen work table that slides out from under the internal shelves. Perfect for outdoor cooking and food preparation. The optional 50 Ltr fridge-freezer sits to the left hand side of the kitchen on a 175 kg lock in – lock out draw slide. Perfect for easy food and cold storage access.
Above the kitchen work area.
You have 4 easily accessible storage shelves for kitchen utensils as well as a huge 1.3 mtr high x 700mm wide storage cabinet to the right with another 4 shelves. Perfect for packing away all of your dry goods and extra cooking equipment. Add to this the two full sized 1.8m work tables that are stored in the trailers top shelf along with the Darche 270* awning and you will have one of the most functional and versatile kitchens around any camp site.
R.A.S.V. Camper Trailers Battery Management System.
BM20 Battery and Solar Management system.
Narva Fuse Box for Outlet Protection
Redarc BCDC 1225D Charger
Redarc BCDC 1225D Charger
NASA BM-1 Voltage Display Unit
Redarc 12v Solar Charging
Dual Anderson Outlets
Choice of Cigarette Lighter, Merit Engel or USB outlets
4-Way LED Switch Panel with Fuse Protection ( for Lighting / Accessories – water pumps )
3 x Waterproof High Amp Buss Circuit Breaker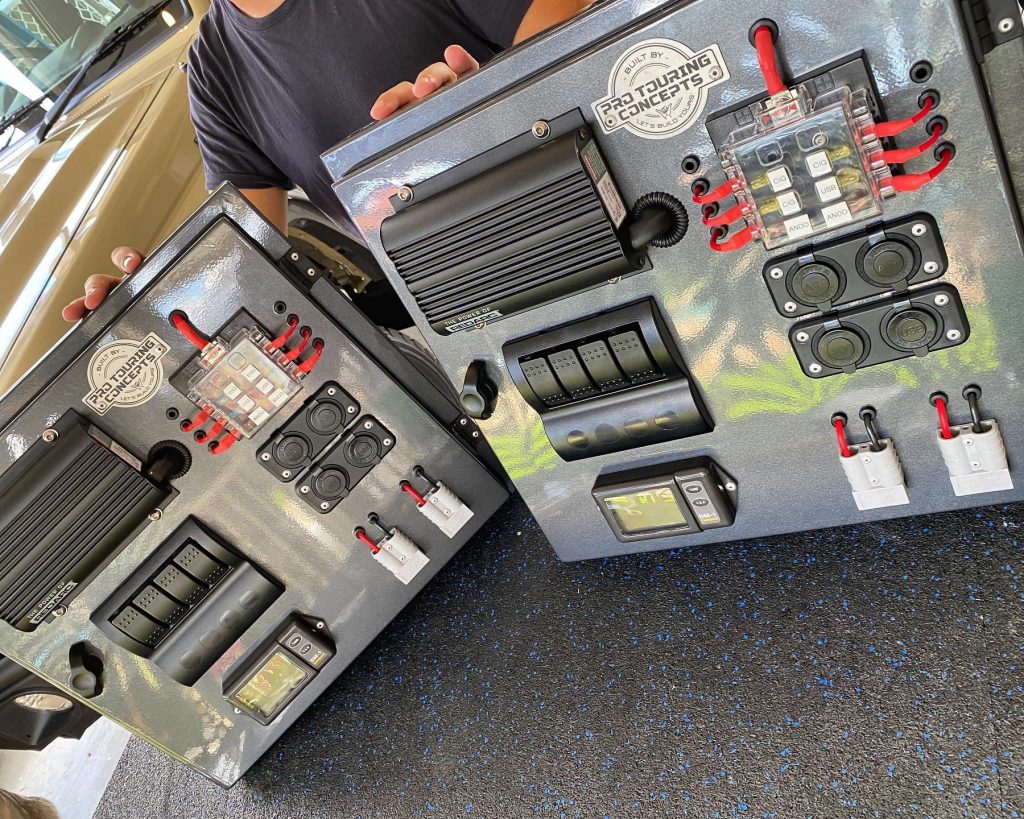 R.A.S.V. Camper Trailers Electrical Fit Out.
7 pin plug for lighting and electric brake wiring.
Andersen plug to trailer batteries.
1 – 120 Ah AGM deep cycle trailer battery.
9 Dual brightness press button led lights with glowing indicator switches, mounted internally to each door.
Twin rear aerial and work light mounting brackets.
Two car fridge recirculating cooling fans.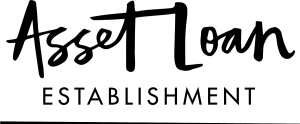 Optional Bolt On Accessories.
We have listed a few suggestions, examples and prices of just some of the accessories that you can include in your ultimate off road camper trailer design.
Ikamp Skycamp 4 Person Roof top tent. $5395.
Ikamp Skycamp 2 Person Roof top tent. $4795.
Darche 270* Wrap Around Awning $1390.
Single jerry can mount on draw bar. $175
Tyre upgrade of 5 Tyres to 285 / 75 / 16 Mud Terrain. $530
4 External jacking mounts and leveling points. $485
2 – Foldaway trailer jack's. $695
Rear external mounting bracket kit for trailer jack's $150
80 Ltr internal water tank and pipe work $800.
12 volt water pump, wiring and switches. $250.
Heavy Duty winch mounting plate. $450.
Front Gas bottle mount and support tray. $195.
Front Twin Jerry can mount and support tray. $495.
Maxtrax mounting brackets and mounting pins. (Rear Door) $120
Maxtrax mounting brackets and mounting pins. (Driver side center door) $120
Maxtrax mounting brackets and mounting pins. (Passenger side center door) $120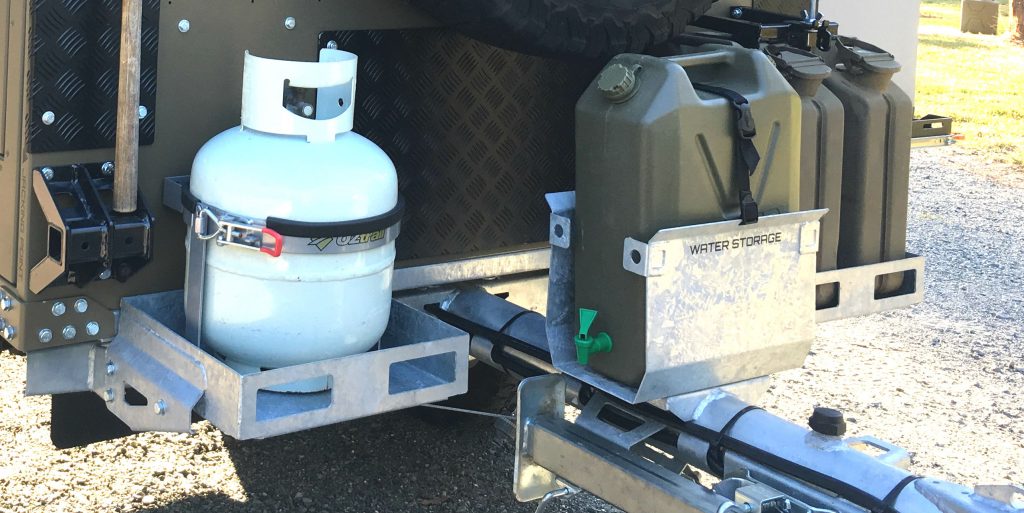 Thank you for visiting our website.
If you would like to know more about our Trailers, or 4WD Products, you can request more information via the
Contact Us Page or by calling on the number below.
Phone Jason on 0488 069 731