Off Road Designs Remote Area Support Vehicles & Off Road Camper Trailers.
Leading the way in Off Road Design & Touring.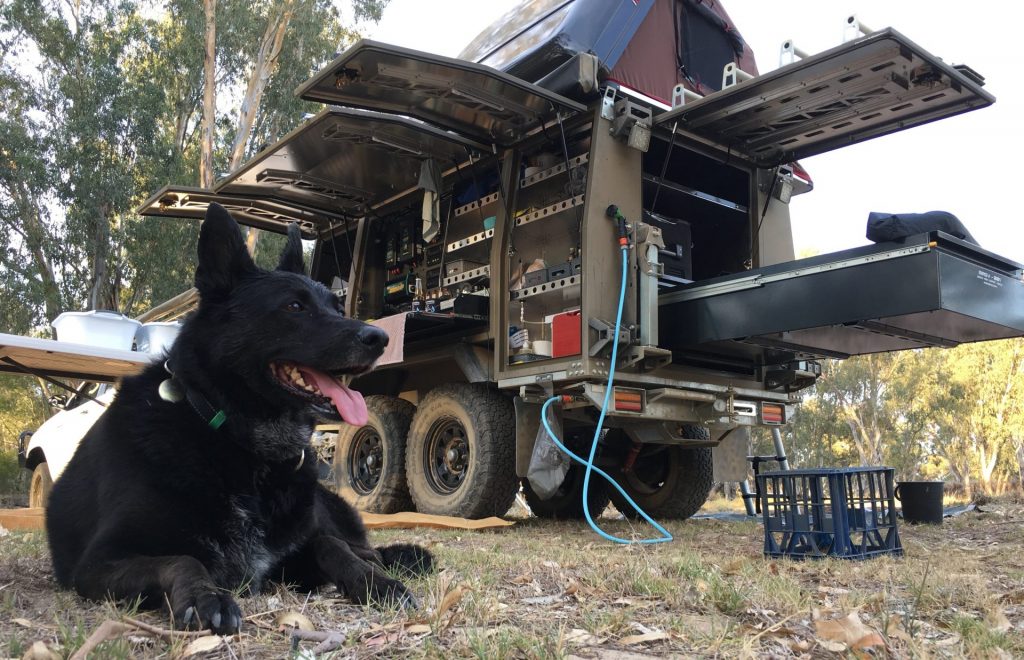 Camper Trailer Concept.
Remote Area Support Vehicles.
The original design brief was to come up with a strong, lightweight and modular Camper trailer system that could handle the roughest terrain that the Australian outback could throw at us.
It had to be able to get us into these remote locations and more importantly get back out again !! The R.A.S.V. was built to serve as a supply and support platform that we could use to safely and efficiently carry food, fuel, water, camping equipment, tools and vehicle recovery equipment on our extended expeditions.
The design also had be able to re supply and provide safe drinking water from remote water points. As well as provide 12v off grid power indefinitely in remote base camp locations. Using a combination of solar power with occasional generator or vehicle charge input.
CAD Design.
Like most engineering and design projects everything usually starts with a few sketches, some rough drawings and a wish list of options you would like to incorporate into the project. Once you have a good idea of what's needed it is then time to get a little more accurate with the drawings and move over to Cad Design.
The chassis design was probably one of the most important areas of design consideration. As this would be the the main structural component that every thing else would rely upon. The chassis had to be modular, strong, light weight and flexible with the ability to withstand thousands of kilometers of rough corrugated outback roads.
Being classed as an off road trailer is one thing. But to make it truly reliable in the bush we needed to incorporate a few added components that would make the R.A.S.V. more capable in the outback. Things like heavy duty recovery points on the front, rear and on each side. Including a rear mounted winch and single tubular draw bar running the full length of the chassis allowing for heavy vehicle recoveries. High lift jack lifting points, spare spring assemblies, stone guards and more than 500mm of ground clearance.
You can find a full description of the Off Road Chassis inclusions on our Universal Trailer Chassis page.
Body Design.
Remote off-road exploration is what these Trailers were made for.
Being conscious of the restricted maneuvering area on off
road tracks. We have carefully thought out the body design,
dimensions and over all ground clearance.
Allow you to venture out into areas that conventional off road caravans and off road camper trailers simply wouldn't be able to go.
Sitting above the main chassis you will find another secondary steel sub frame that supports and reinforces the all aluminium monocoque trailer body.
Unlike other trailers, the body is separated from the chassis with the use of 20 high-density polyurethane body mounts which operate in the same way as the body mounts on your tow vehicle. Helping to isolate the body from high speed off road vibrations caused by corrugations and uneven terrain.
Weight.
Weighing in at just over 1300kg, the R.A.S.V. is lighter than
most single axle off road camper trailers on the market
today. The tandem axle design also gives you the added
benefits of four wheel flotation and greater suspension
articulation. With twice the braking power and added
stability off road.
So weather it be for the hard core off road professional, weekend warrior, or just off road touring enthusiasts. Our products are perfect for any one who wants a heavy duty, reliable, Off Road Proven Camper Trailer.
Off Road Designs now have a range of different Universal trailer chassis available for those who are interested in building their own Camper Trailer or Toy Haulers.
If you would like to know more about out Trailers, or 4Wd Products, you can request more information via the
Contact Us Page or by calling on the number below.
Phone Jason on 0488 069 731