Thinking of building your own Off Road Camper Trailer or Toy Hauler ?
But need a bit of a kick start to get your project off the ground.
Introducing Off Road Designs all new R.A.S.V. Trailer Chassis.
A revolutionary new off road camper trailer chassis designed for those who are serious about outback adventure.
Proudly designed, developed and built right here in Australia. This Off Road Trailer Chassis and Sub Frame is bursting with features that you just won't find on most other off road trailers.
100% Australian made.
Extreme Off Road Trailer Chassis and Frame. From: $13,950.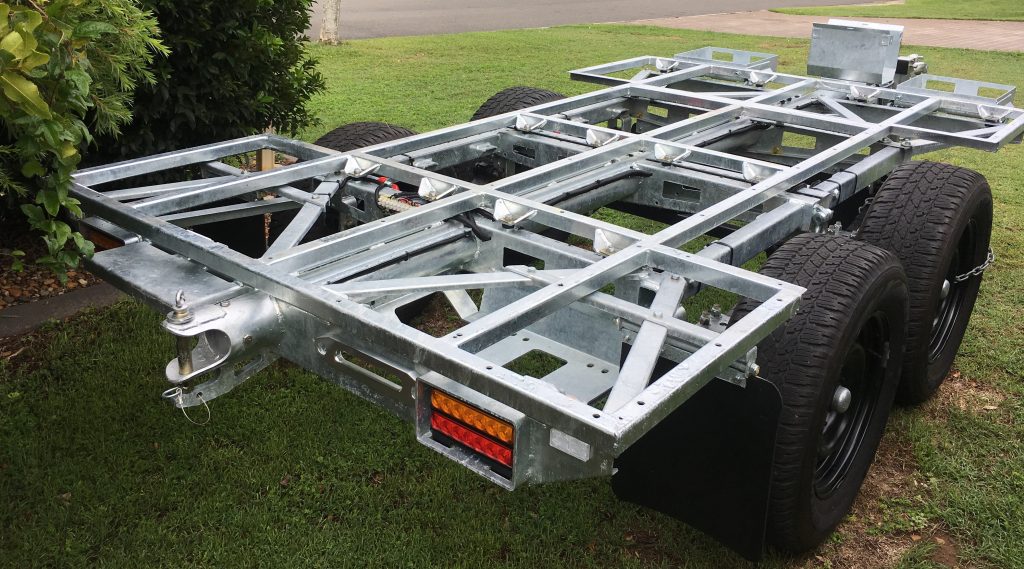 Trailer Chassis.
It all starts with our unique chassis design.
The main design feature of our trailer frame is the 114 x 5mm central draw bar that runs the full length of the trailer chassis allowing the sub frame to flex and move as it negotiates rough off road terrain.
The hot dipped galvanised chassis is made of laser cut c – section cross members and open ended rectangular hollow section steel allowing for easy wash down and cleaning, with no closed in areas where mud, sand and salt can get trapped and cause corrosion.
Secondary Sub Frame.
Sitting above the main chassis you will find another secondary chassis sub frame. That supports the deck plating or trailer body. Unlike other trailers, the body is separated from the chassis with the use of 20 high-density polyurethane body mounts. Which operate in the same way as the body mounts on your tow vehicle. Helping to isolate the body from high speed off road vibrations. Caused by corrugations and uneven terrain.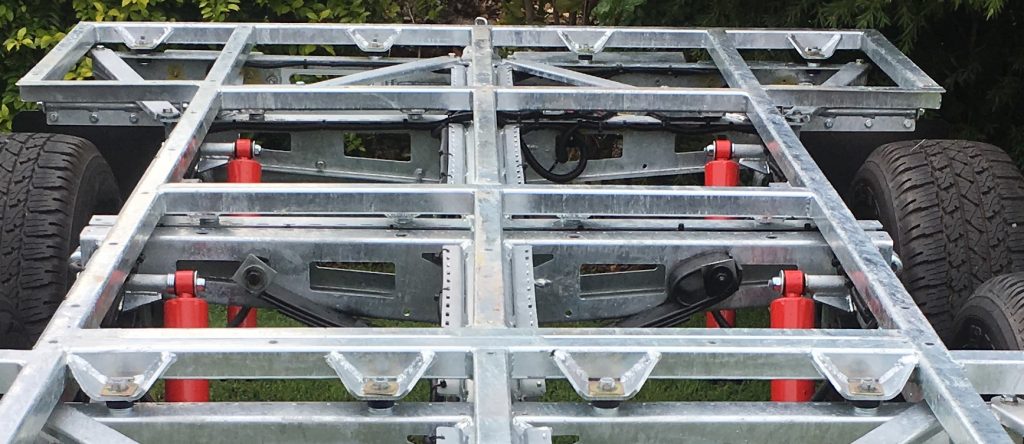 Weighing in at just over 700kg, the R.A.S.V. is lighter than most single axle off road trailers on the market today. The tandem axle design also gives you the added benefits of four wheel flotation and greater suspension articulation. With twice the braking power and added stability off road.
Off Road Ability.
Remote off-road exploration is what this ultimate off road camper frame was made for. Being conscious of the restricted maneuvering area on off road tracks. We have carefully thought out the chassis design, dimensions and over all ground clearance. Allow you to venture out into areas that conventional off road caravans and off road camper trailers simply can't go. The single draw bar configuration also gives you an advantage over traditional A Frame trailer designs. By allowing you to maneuver the trailer into an over 90* jack knife position behind the tow vehicle. Giving you a much tighter turning circle and reversing capability off road.
By keeping the trailer dimensions within the width of most tow vehicles we have also been able to increase the maneuverability off road through tight areas. Along narrow tree lined outback tracks, or along tight, twisting mountain roads. Keeping the Off Road Trailer dimensions in line with the tow vehicle also improves vehicle handling and fuel efficiency. By reducing the amount of wind and drag that you are likely to encounter during higher speed on road travel.
New R.A.S.V. Single Axle.
A lighter more compact version of the R.A.S.V. Tandem with all the same features and functionality.
Extreme Off Road Trailer Chassis and Frame. From: $8,995.
TRAILER RUNNING GEAR
Alco 1600 kg leaf suspension.
2 – 10 inch electric drum breaks.
2 – Heavy duty large boar off road shock absorbers.
1 – 1600 kg 50mm square steel axle.
2 – Sets of Japanese parallel bearings.
2 – Rear pivot swinging mud flap mounts and mud flaps.
Trailer hand brake cables.
Front under body stone protection – Insertion rubber cross guard.
Hot dipped galvanised trailer chassis.
MAIN CHASSIS / UNDER BODY
Full length 4 mtr, 114mm x 5mm tubular steel Draw bar.
1.5 mtr frontal draw bar length. Allowing for a 90* jack knife turn.
The tubular draw bar also has the option to be turned into a 30 ltr water tank or double as a compressed air tank.
Rear draw bar heavy duty pintle hook and recovery point.
4 – Heavy duty D – Shackle side recovery points.
C Section cross members for easy cleaning.
Solid chassis bracing gussets.
Flexible cross bracing struts.
Twin point heavy duty shock absorber top mounting pins.
4 – Front storage box mounting brackets.
Slotted steel electrical cable runners.
MAIN CHASSIS / FRONT DRAW BAR
360 * Off Road Coupling.
Hand brake lever and mounting plate.
2 – Heavy duty chain hooks.
2 – High tensile safety chains.
High lift jack lifting point.
Swing Down Jockey Wheel.
Top and Bottom D – Shackle recovery points.
20 mm hand brake lever bash plate.
Front draw bar jerry can mounting plate.
MAIN CHASSIS REAR
Rear step.
2 Water proof resin filled LED trailer lamps.
Heavy duty rear pintle hook recovery point.
5 mm Tail light protection plates.
20mm Pintle hook bottom bash plate.
Bolt on – pivoting mud flap assembly.
WHEELS & TYRES
2 – 265 / 7 5 / 1 6. All terrain tyres.
2 – 16 x 8 " 6 stud black steel rims.
Thank you for visiting our website.
If you would like to know more about our Trailers, or 4WD Products, you can request more information via the Contact Us Page or by calling on the number below.
Phone Jason on 0488 069 731