"M-H 4.7 Military Equipment Transport Trailer"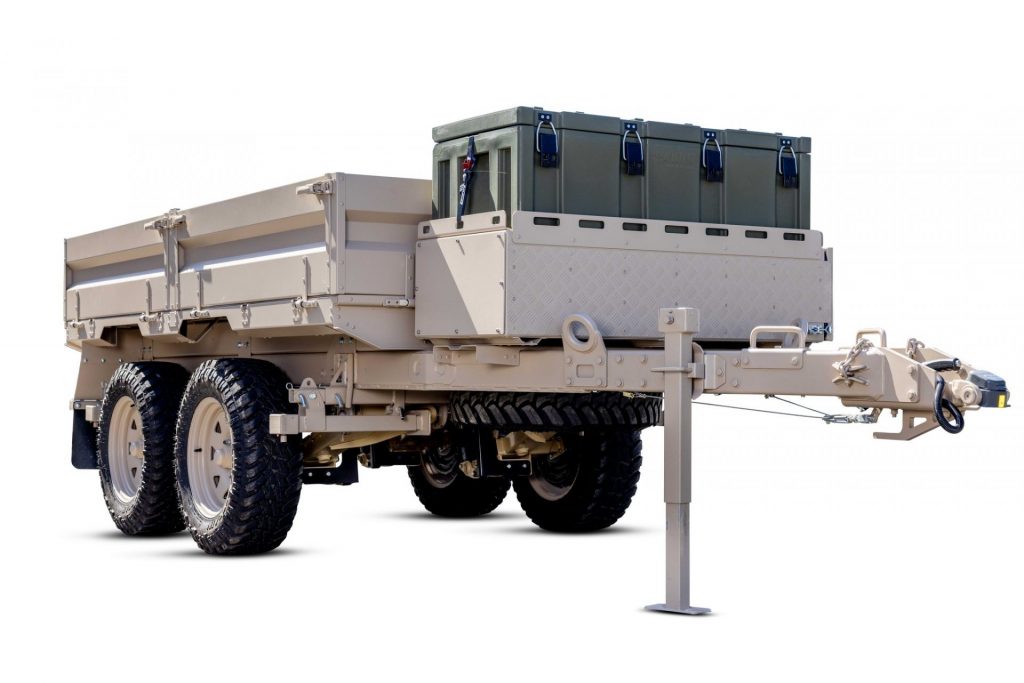 When agility, strength, reliability and performance is paramount over all types of terrain, in all types of weather.
"The M-H 4.7 is the ultimate heavy-duty off-road trailer, designed and made in Australia by Off Road Designs and Land Force Defence.
Built with agility, strength, reliability, and performance in mind, this versatile military-grade platform is the perfect solution for all types of cargo transportation needs, even in the toughest of off-road conditions and weather.
Incorporating Off Road Designs revolutionary new off road trailer chassis and independent off road suspension assembly. The M-H CS – 4.7. has been designed to negotiate the toughest of off-road conditions while also meeting stringent weight and size restrictions. allowing us to maximize compatibility, with air transportability.
The removable and stowable headboard, drop sides, and tailgate of the MH 4.7 Military Equipment Transport Trailers make loading and unloading a breeze, while strategically placed internal and external cargo tie-downs help secure a full range of cargo options. Whether you're hauling equipment for a mission or embarking on an off-road adventure, the M-H CS-4.7 is the ultimate heavy-duty, Australian made off-road trailer you can rely on."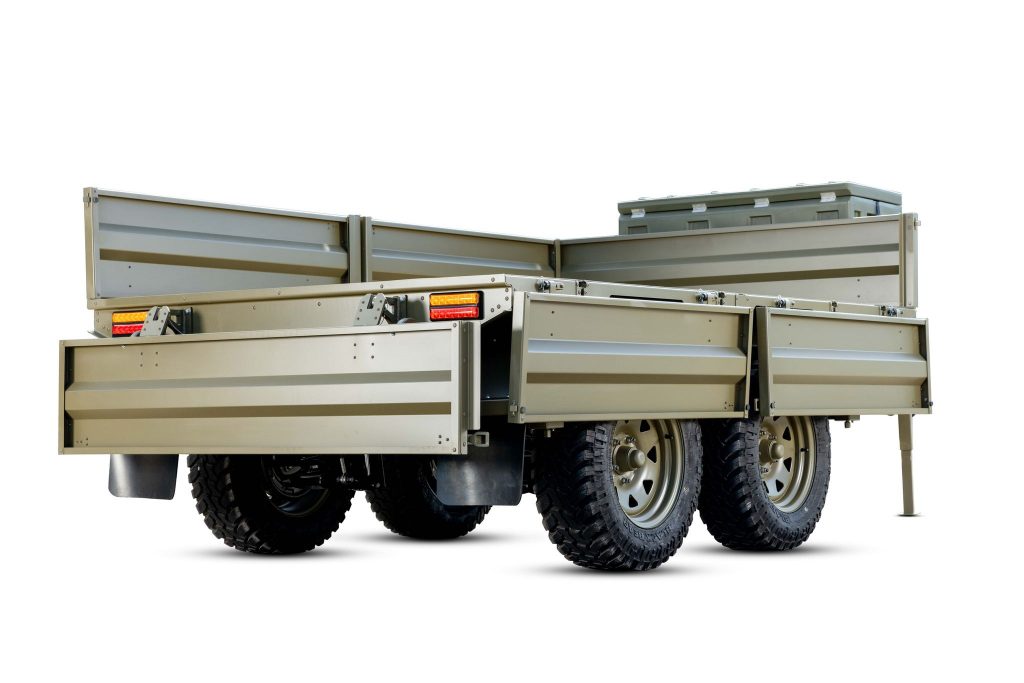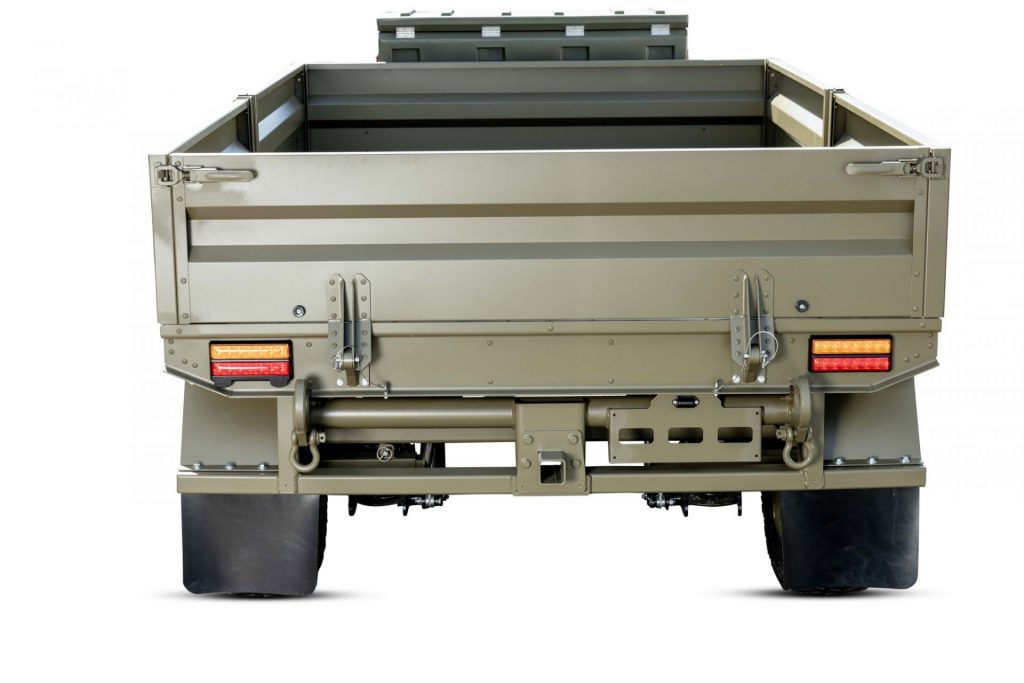 MH 4.7 Military Trailer Uses & Variants:
Whether you need to support troops in the field with combat supplies, military logistics or heavy equipment transport.
The MH 4.7 Military Transport trailer has been designed for the following uses : fuel transport trailer, ammunition transport trailer, potable water units, medical supplies, intermediate refueling stations, mobile workshops, communications, radar trailers, mobile command posts, or any other mission-critical use.
Pricing from $46,500.
TRAILER SIZE :
Overall Vehicle Length 4.7 mtrs.
Overall Vehicle Width 3.0m Long x 1.85m Wide.
Tray height 900 mm.
Height to top of head board 1.38m.
TARE: 1225 kg.
ATM: 3,500Kgs to 4,500Kgs Depending on coil spring rates.
Ball Weight: 161 kg.
Internal Air Transport and Sling Load Capable.
MAIN CHASSIS & UNDER BODY
Cruise Master DO35 Plus Off Road Trailer Hitch.
Full length 4.7 mtr, 125 x 75 x 4mm Steel Chassis.
1.8 mtr frontal draw bar length.
Twin rear heavy duty recovery points.
Interlocking chassis cross members.
Trailer hand brake cables.
Front hand brake lever bash plate.
Front D Shackle recovery point.
Two tie down and lift points on front draw bar.
Under body spare tyre mount.
Manutec, pin locking, swivel bracket and heavy duty side wind jack stand.
Optional 250 Ltr Military Cargo Case (Green)
PAINT COLOUR OPTIONS
Desert Tan Satin.
Olive Drab Matt.
TRAY CONSTRUCTION
2 – 150 x 50 x 5mm C Section Aluminium Sub frame chassis rails.
12 – 50 x 25 x 30 x 4mm galvanised RHS Decking cross members.
All decking cross members are attached to the chassis sub frame with M12 – bolts and RivNuts.
The decking side rails are fitted with tie down points incorporated into the side rail design.
The RHS deck cross members also incorporate 9 rows of 80 additional M12 flush tie down points.
Decking plate is made from 4mm Aluminium & attached with 6.5mm structural Rivets.
Removable tail gate and drop sides.
TRAILER RUNNING GEAR
2 Land Force Defence 1,850 kg or 2,250 kg Independent Coil Spring Suspension units.
4 – 12 inch electric drum breaks.
Optional 4 Hydraulic Ventilated Disc Brakes and Hydra Star Pump.
8 – Heavy duty large bore off road shock absorbers.
125 x 75 x 4mm Hot dipped galvanised trailer chassis.
Twin modular, suspension assemblies.
MAIN CHASSIS REAR
2 Water proof resin filled LED trailer lamps.
Rear winch mounting point.
Bolt on mud flap assembly.
Twin rear Recovery Points.
Two rear tie down and lift points.
WHEELS & TYRES
5 – 265 / 7 5 / R 16. All terrain tyres.
5 – 16 x 8 " 6 stud steel rims.
M-H 4.7 EQUIPMENT TRANSPORT TRAILER OPTIONAL ACCESSORIES
187 Ltr Top Opening Tool Box
187 Ltr Side Opening Tool Box
2 Front under tray tool boxes.
Canvas cover and galvanised support frame.
Axe Shovel & Mattock mounting frame.
Internal tool box Battery tray.
120 Ah Deep Cycle Battery.
125 Ah Lithium Battery.
Red Arc Battery Charger.
ARB twin air compressor.
Tyre inflation and deflation system.
Hydraulic Disc brakes and pump.
Under Tray Stabiliser legs. (Please note that the under tray tool boxes can not be fitted once the stabiliser legs are attached)