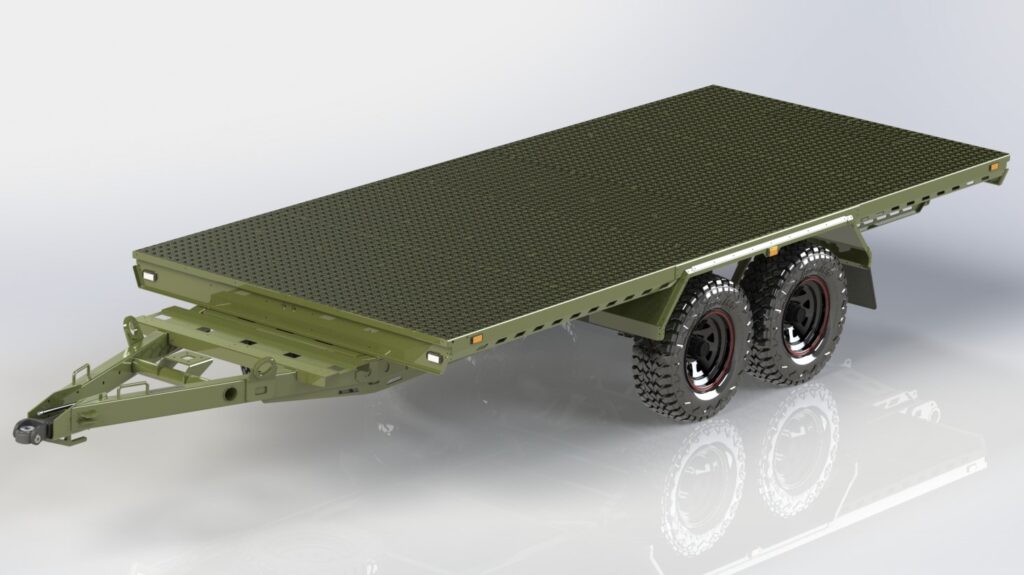 INTRODUCING:
Off Road Designs all new "Heavy Duty" Off Road Tandem Toy Hauler.
The CS 6.9m Flat Deck Off Road Toy Hauler is a versatile open deck trailer platform, that is able to accommodate a wide variety of equipment integration, vehicle and cargo transportation needs.
Proudly designed, developed and built right here in Australia.
Off Road Designs new open deck Off Road Toy Hauler can be configured for almost any application with a variety of load handling and storage capabilities to specifically match your requirements.
100% Australian made.
Unleash Your Off-Road Adventures with the CS-6.9 Flat Deck Toy Hauler
Are you looking for the ultimate off-road experience?
Get ready to embark on an off-road adventure with the CS-6.9 Toy Hauler. Our reliable and innovative design will allow you to explore remote areas that others cannot. Don't let anything hold you back from experiencing the thrill of off-road exploration.
The CS-6.9 Off Road Toy Hauler is the perfect Off Road Tandem Trailer to explore even the most remote areas.
Our design team has carefully considered the restricted maneuvering space on off-road tracks, ensuring that the chassis design, dimensions, and overall ground clearance allow you to venture into areas that conventional off-road caravans and camper trailers cannot reach. Weighing in at just over 1,100kg, the CS-6.9 Toy Hauler is lighter than many tandem axle off-road trailers out there on the market.
The Heavy Duty tandem axle, coil spring, independent suspension design offers a multitude of benefits, including four-wheel flotation, greater suspension articulation, twice the braking power, and added stability off-road.
Additionally, the sharp angle drawbar configuration provides you with an advantage over many other A-frame trailer designs, allowing you to maneuver the trailer into an over 80* jackknife position behind the tow vehicle, resulting in a much tighter turning circle and reversing capability off-road.
By keeping the trailer dimensions within the width of most tow vehicles, we have increased the maneuverability off-road through tight areas, such as narrow tree-lined outback tracks or tight, twisting mountain roads. Furthermore, maintaining the trailer dimensions in line with the tow vehicle also improves vehicle handling and fuel efficiency by reducing the amount of wind and drag you are likely to encounter during higher-speed on-road travel.
Pricing from $39,800.
DESIGN FEATURES
TRAILER CHASSIS
One of the main design features of our trailer frame is the extended Land Force Defence Military Transport Trailer Chassis. Which uses 125 x 75mm heavy duty chassis rails that run the full length of the trailer chassis giving the body and sub frame maximum support as it negotiates rough off road terrain. The hot dipped galvanised chassis is made of laser cut box section cross members and open ended rectangular hollow section steel allowing for easy wash down and cleaning, with no closed in areas where mud, sand and salt can get trapped and cause corrosion.
COIL SPRING SUSPENSION
With its Heavy Duty design, the Land Force Defence coil spring suspension system is the go-to option for those seeking the best all-terrain suspension for their camper trailer. Our experienced in-house engineering team has meticulously crafted the entire system to provide unparalleled performance in even the toughest of conditions. This makes the CS 6.9 Off Road Toy Hauler an ideal choice for anyone who needs a trailer that can withstand heavy-duty off-road use and withstand harsh outback conditions in remote areas. With its robust 63mm stub axle, extra-large 2 or 3.3T VC bearing combination, premium twin shock absorbers, and lockable toe and camber adjustment, you can enjoy peace of mind knowing that your trailer is built to last. And, if your needs change over time, the interchangeable suspension components can be easily upgraded to accommodate your changing requirements. With the option to upgrade to spring rates and disc brakes variants, the 6.9m Off Road Toy Hauler provides versatility and longevity, making it an ideal choice for anyone who requires a reliable, heavy-duty off-road trailer.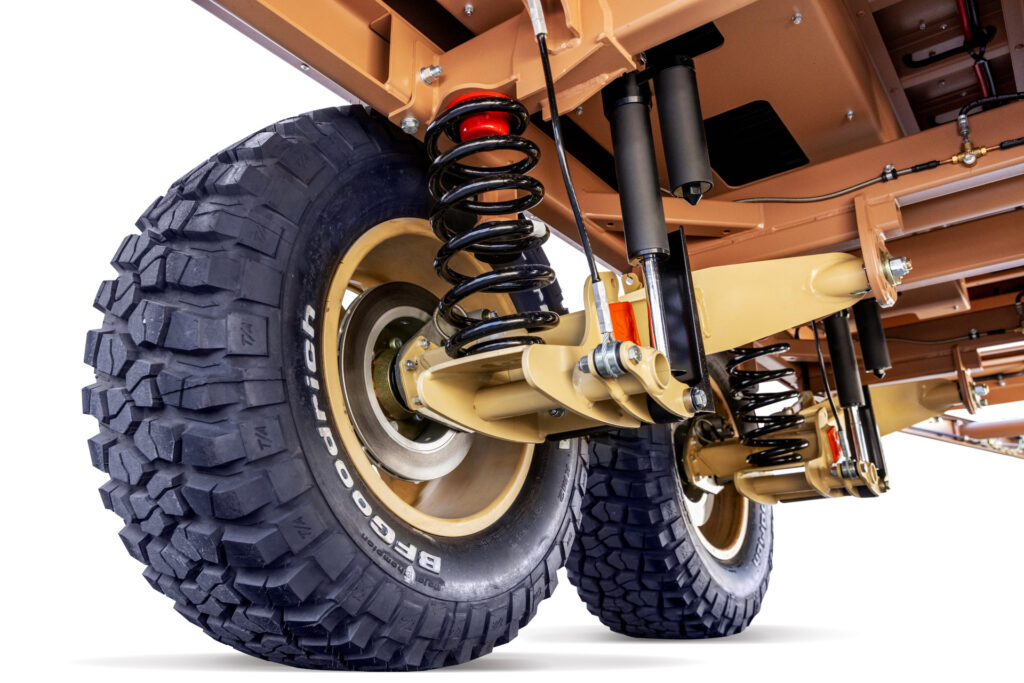 Trailer Deck Construction.
TRAILER SIZE :
Overall Vehicle Length 6.9 mtrs.
Overall Deck Size 5.0m Long x 2m Wide.
Tray height approximately 750 mm. high depending on tyre size
TARE: 1300 kg.
ATM: 3,500Kgs to 4,500Kgs Depending on coil spring rates.
Ball Weight: 161 kg.
MAIN CHASSIS & UNDER BODY
Cruise Master DO35 or 45 Plus Off Road Trailer Hitch.
Full length 6.7 mtr, 125 x 75 x 4mm Steel Chassis.
1.8 mtr frontal draw bar length.
Twin rear heavy duty recovery points.
Interlocking chassis cross members.
Trailer hand brake cables.
Front hand brake lever bash plate.
Front D Shackle recovery point.
Under body spare tyre mount.
ARK XO 750 Heavy Duty Jockey wheel.
Optional 250 Ltr Military Cargo Case (Green)
Optional 187 Ltr Aluminium Draw Bar Mounted Storage box.
DECK COLOUR OPTIONS
ARMY GREEN
GRAPHITE GREY
ANTARCTIC WHITE
BLACK ONYX PEARL
TRAY CONSTRUCTION
12 – 40 x 40 x 2.5mm galvanised RHS Decking cross members.
All decking cross members are attached to the chassis sub frame with M12 – bolts and RivNuts.
The decking side rails are fitted with tie down points incorporated into the side rail design.
The RHS deck cross members also incorporate 9 rows of 80 additional M12 flush tie down points.
Decking plate is made from 4mm Aluminium & attached with 6.5mm structural Rivets.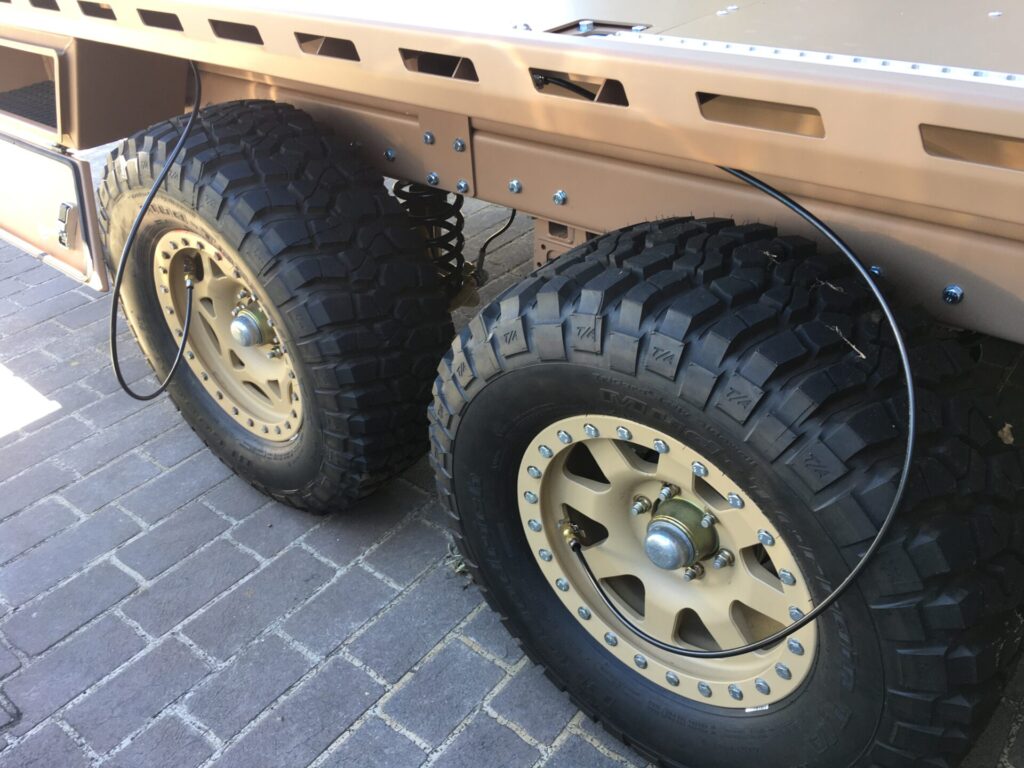 TRAILER RUNNING GEAR
2 – Land Force Defence 1,850 kg or 2,250 kg Independent Coil Spring Suspension units.
4 – 12 inch electric drum breaks.
Optional 4 Hydraulic Ventilated Disc Brakes and Hydra Star Pump.
8 – Heavy duty large bore off road shock absorbers.
125 x 75 x 4mm Hot dipped galvanised trailer chassis.
MAIN CHASSIS REAR
2 Water proof resin filled LED trailer lamps.
Rear winch mounting point.
Bolt on mud flap assembly.
Twin rear Recovery Points.
WHEELS & TYRES
5 – 265 / 7 5 / R 16. All terrain tyres.
5 – 5 stud Land Cruise zero offset steel rims.
6.9 OFF ROAD TOY HAULER OPTIONAL ACCESSORIES
187 Ltr Top Opening Tool Box (Polly Cargo Case)
187 Ltr Side Opening Aluminium Tool Box
Axe Shovel & Mattock mounting frame.
Hydraulic Disc brakes and pump.
Deck mounted winch plate.
Head Board.
2.4m Heavy duty Aluminium vehicle ramps.
Powder coated chassis.
Powder coated deck plates.
Optional External Battery Management System, Mounted Into Front Cargo Case.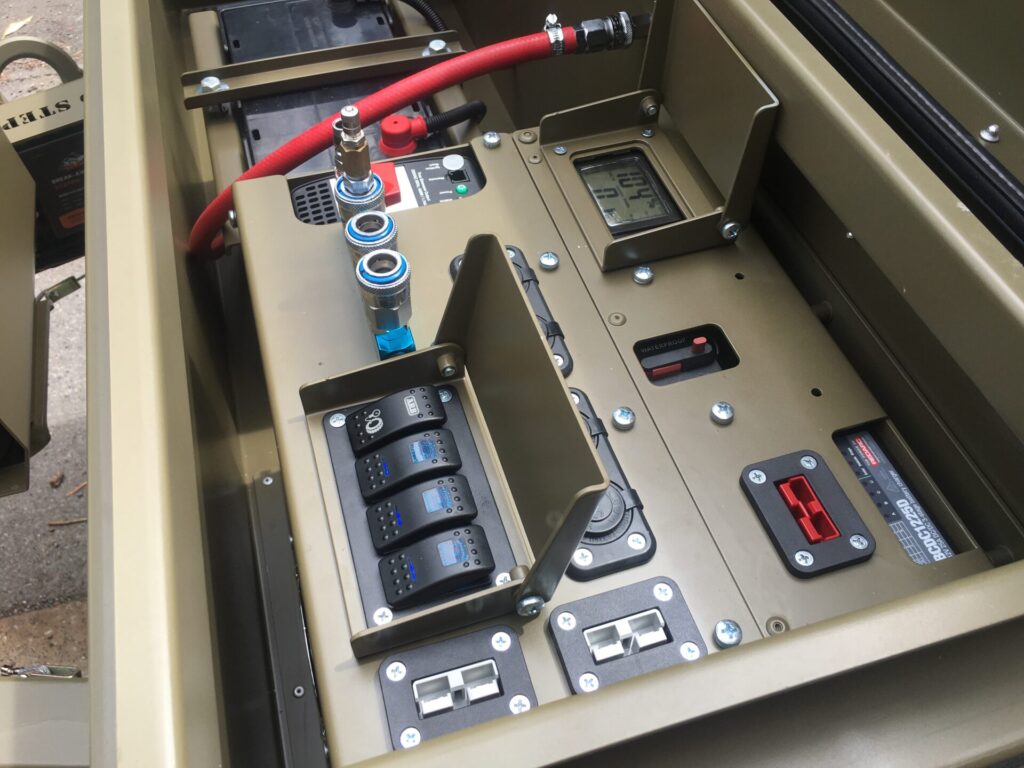 Battery Monitoring Display.
400Watt 240v Inverter.
4 point Switch Panel.
Solar Charge Input.
Twin Accessory & Twin USB Charging Points.
Twin 12v Andersen Plug Outlets.
120 Ah Deep Cycle Battery.
125 Ah Lithium Battery.
Single Battery Tray.
Optional DBL Battery Tray.
Red Arc Battery Charger.
ARB twin air compressor.
3 Quick Release Air Line Points.
Tyre inflation and deflation system.