Introducing:
Off Road Designs all new "Medium – Heavy Duty" Off Road Tandem Trailer.
The MH, CS – 4.7. is a versatile military style flat deck trailer platform, that is able to accommodate a wide variety of equipment integration and cargo transportation needs.
Incorporating a revolutionary new off road trailer chassis and independent off road suspension assembly.
The MH CS 4.7. is designed for those who are serious about remote area travel.
Proudly designed, developed and built right here in Australia.
The R.A.S.V. Medium – Heavy Duty, Tactical Flat Deck Trailer can be configured for almost any application with a variety of load handling capabilities to specifically match your requirements.
100% Australian made.
M-H CS 4.7. DESIGN FEATURES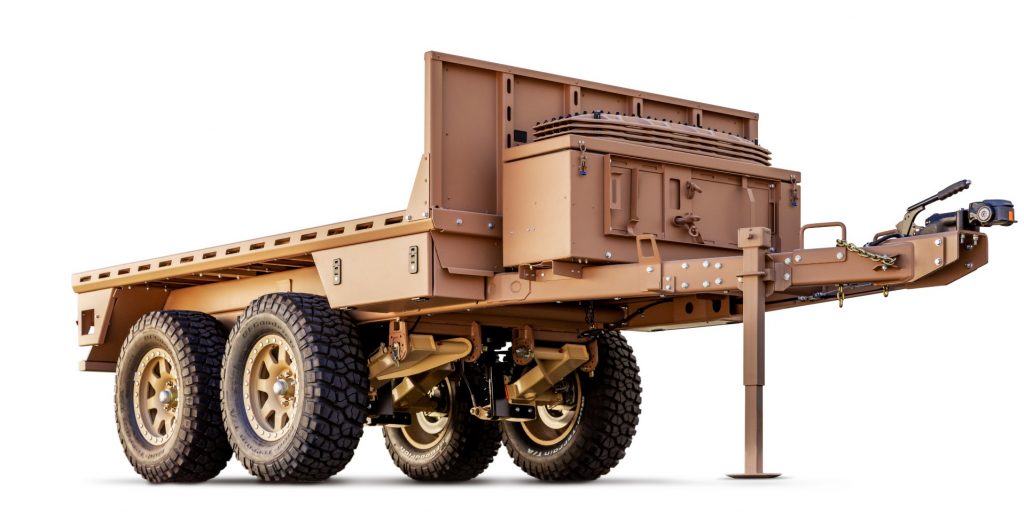 UPDATED 2023 HEAVY DUTY CHASSIS DESIGN.
The main design feature of the M-H CS 4.7's trailer frame is the 125 x 75 x 4mm Box Section chassis that runs the full length of the trailer .
The hot dipped galvanised chassis is made of Laser Cut, CNC folded Componants with open chassis members allowing for easy wash down and cleaning, with no enclosed areas where mud, sand and salt can get trapped and cause corrosion.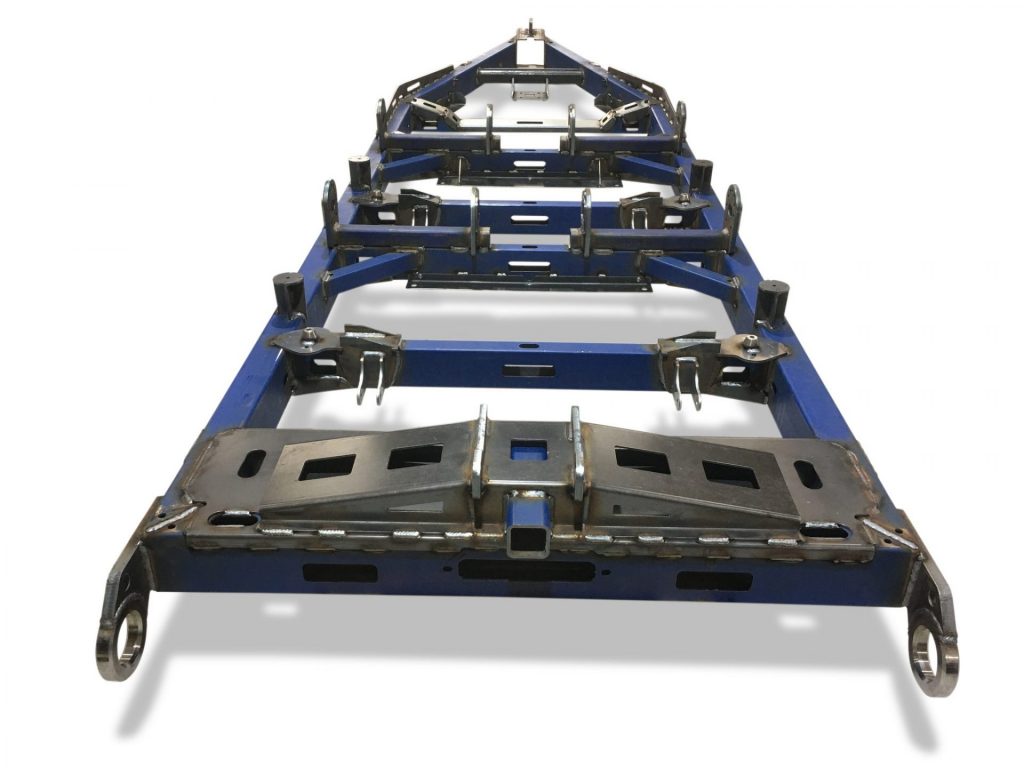 SECONDARY SUB FRAME
Above the main chassis you will find another secondary chassis sub frame. The upper section of the trailer is made of a combination of Aluminium and steel components. Reducing over all weight and adding strength where it is needed most. Siting above the main steel chassis rails we have introduced two 150 x 50 x 5mm Aluminium C section chassis rails. In combination with 16 – 70 x 30 x 30 x 4mm Z profile Decking cross members at 200mm Centers.
All cross members are individually attached to the lower aluminium chassis sub frame with 4 – 6.5mm 1500 kg sheer rated structural rivets. The decking side rails are made from 5mm Zinc Plated Steel with integrated ratchet tie down points incorporated into the side rail design. The top deck can also be fitted with a variety of different load restraint tie down points as requested.


Depending on customer load and weight requirements the decking plates can also be optioned to either 3mm galvanised steel checker plate or 4mm Aluminium plate. Trailers also have the option to be fitted with a removable Front Head Board, 187 Ltr draw bar mounted Aluminium Tool Box, Side under tray storage boxes, Maxtrax Recovery mounts and an Axe, Shovel and Mattock mount.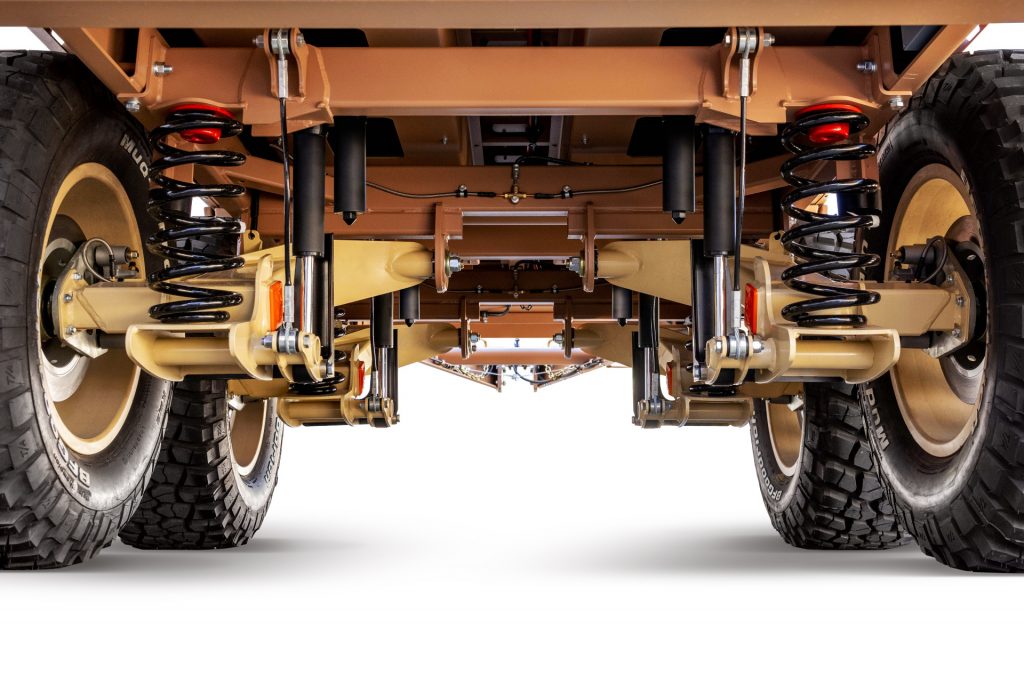 SUSPENSION
The M-H CS 4.7's suspension is built for a lifetime of Heavy Duty Off Road use with ability to incorporate interchangeable key suspension components allowing the trailer to be upgraded as your needs change. The base model is fitted standard with a coil spring/drum brake configuration with the option of upgrading spring rates and disc brake variants at any time in the suspensions life cycle.
Land Force Defence Off Road Suspension.
Incorporating Land Force Defences heavy duty military suspension means that you are less likely to run into problems out in the field. A sturdy 63mm stub axle, extra-large 3.3T VC bearing combination, premium monotube dampers and lockable toe and camber adjusters means you can spend more time operating in remote areas and less time dealing with overheated components and maintenance problems. Both front and rear suspension assemblies have been mounted to modular frames independent to each other. Allowing for full or partial suspension assembly replacement in the field.
VEHICLE LOADING RAMPS AND STORAGE
Optional Under Tray Aluminium Vehicle Ramp Storage. with two 2.6m, 2,500kg Aluminium Vehicle Loading Ramps .
TRAILER SPECIFICATIONS
TRAILER SIZE :
Total Length 4.7 mtrs.
Body size 3.0m Long x 1.85m Wide.
Tray height 1.0m.
Height to top of head board 1.6m.
TARE: 1200 kg
ATM: 3,700Kgs to 4,500Kgs Depending on coil spring rates.
Ball Weight: 75 kg
TRAILER RUNNING GEAR
2 Land Force Defence 1,850 kg or 2,250 kg Independent Coil Spring Suspension units.
4 – 12 inch electric drum brakes.
Optional 4 – Hydraulic Ventilated Disc Brakes and Hydra Star Pump.
8 – Heavy duty large boar off road shock absorbers.
125 x 50 x 6mm Hot dipped galvanised C section trailer chassis.
Twin modular, removable suspension assemblies.
MAIN CHASSIS & UNDER BODY
Cruise Master DO35 or DO45 Plus Off Road Trailer Hitch.
Full length 4.7 mtr, 125 x75 x 4mm Steel Chassis.
1.8 mtr frontal draw bar length.
Twin rear heavy duty recovery points.
Interlocking chassis cross members.
Trailer hand brake cables.
Front hand brake lever bash plate.
Front D Shackle recovery point.
Two high lift jack lift points on front draw bar.
Under body spare tyre mount.
Manutec, pin locking, swivel bracket and heavy duty side wind jack stand.
MAIN CHASSIS REAR
2 Water proof resin filled LED trailer lamps.
Rear winch mounting point.
Optional under tray vehicle ramp storage.
Bolt on mud flap assembly.
Twin under body Recovery Points.
WHEELS & TYRES
5 – 285 / 7 5 / R 16 – 17. All terrain tyres.
5 – 16 x 8 " 6 stud black steel rims.
Alloy rims available on request.
POWDER COAT COLOUR OPTIONS
Desert Tan Satin.
Olive Drab Matt.
Steel Pearl Metallic Satin.
TRAY CONSTRUCTION
2 – 150 x 50 x 5mm C Section Aluminium Sub frame chassis rails.
16 – 70 x 30 x 30 x 3mm Z profile Decking cross members at 200mm Centers.
All decking cross members are attached to the chassis sub frame with 4 – 6.5mm 1200 kg sheer rated structural rivets.
The decking side rails are made from 4mm Zinc Plated Steel with tie down points incorporated into the side rail design.
The rear cross rail also incorporates 7 additional tie down hook points.
Decking plate is made from 4mm Aluminium checker plate.
Decking plates are also attached with 6.5mm structural Rivets.
Removable Front Head Board.
Side under tray tool boxes.
OPTIONAL TRAILER ACCESSORIES
187 Ltr Front Tool Box.
Maxtrax Mounting brackets.
Axe Shovel & Mattock mounting frame.
2.6m Aluminium Vechicle Loading Ramps 2,500kg.
Internal tool box Battery tray.
120 Ah Deep Cycle Battery.
125 Ah Lithium Battery.
Red Arc Battery Charger.
ARB twin air compressor.
Tyre inflation and deflation system.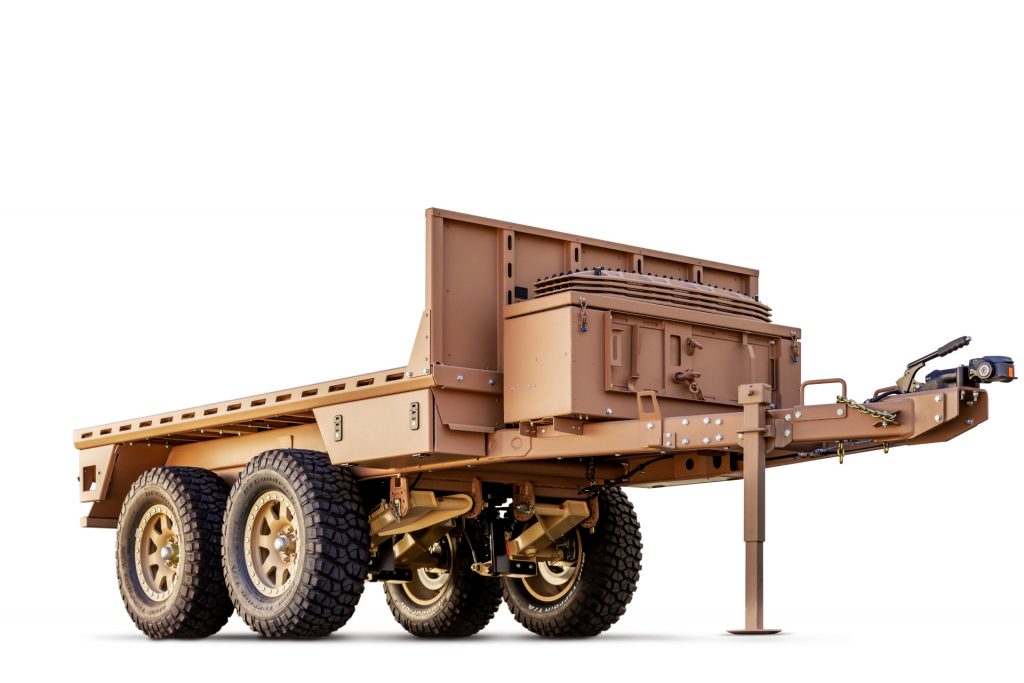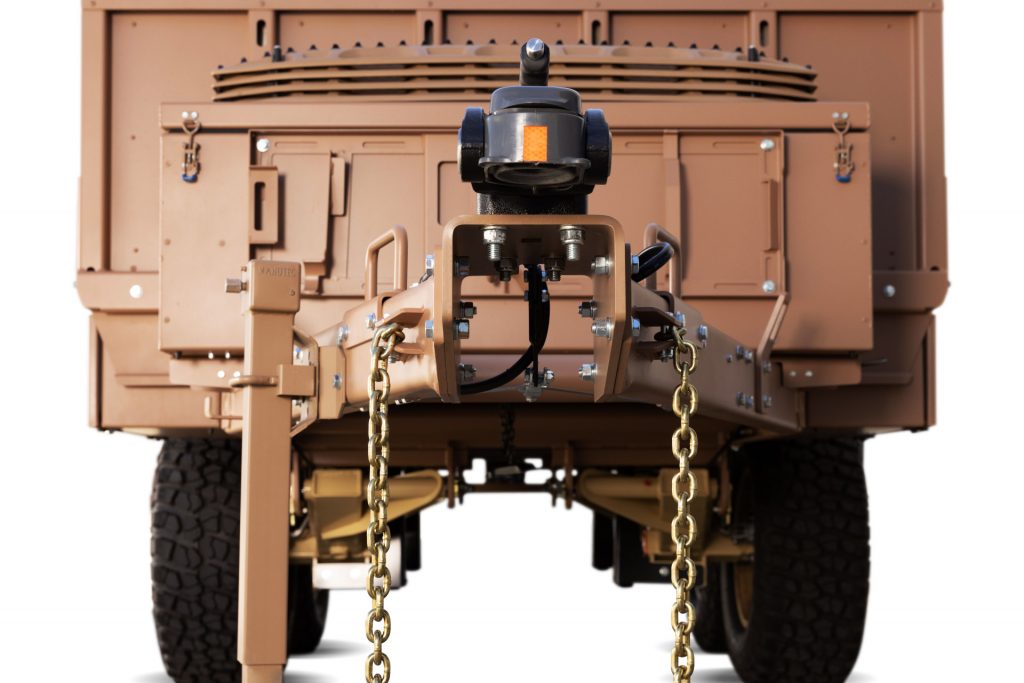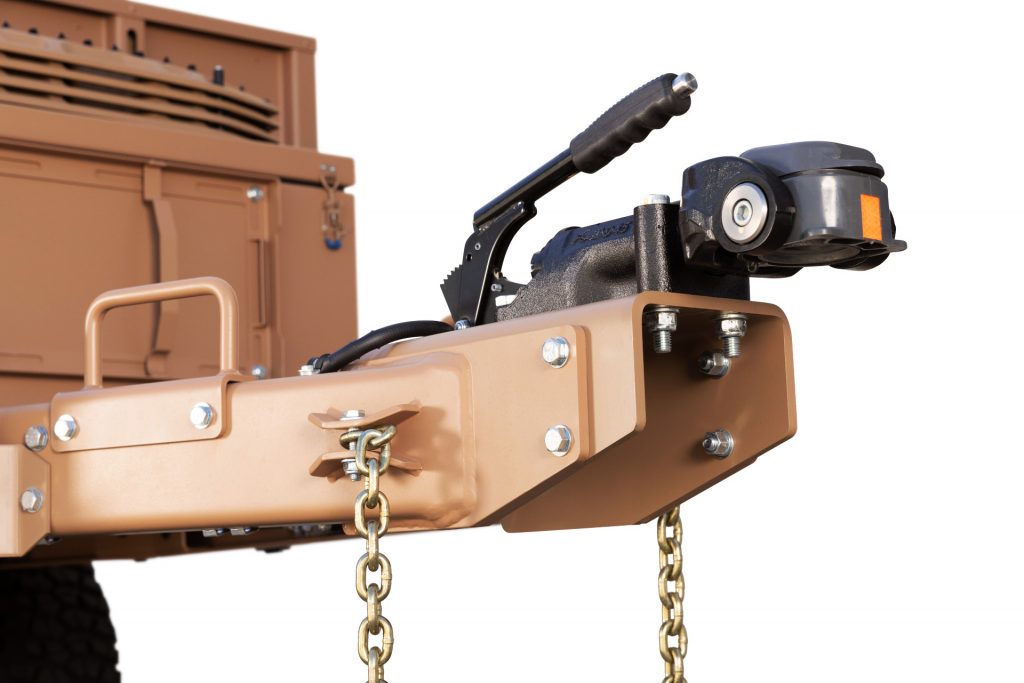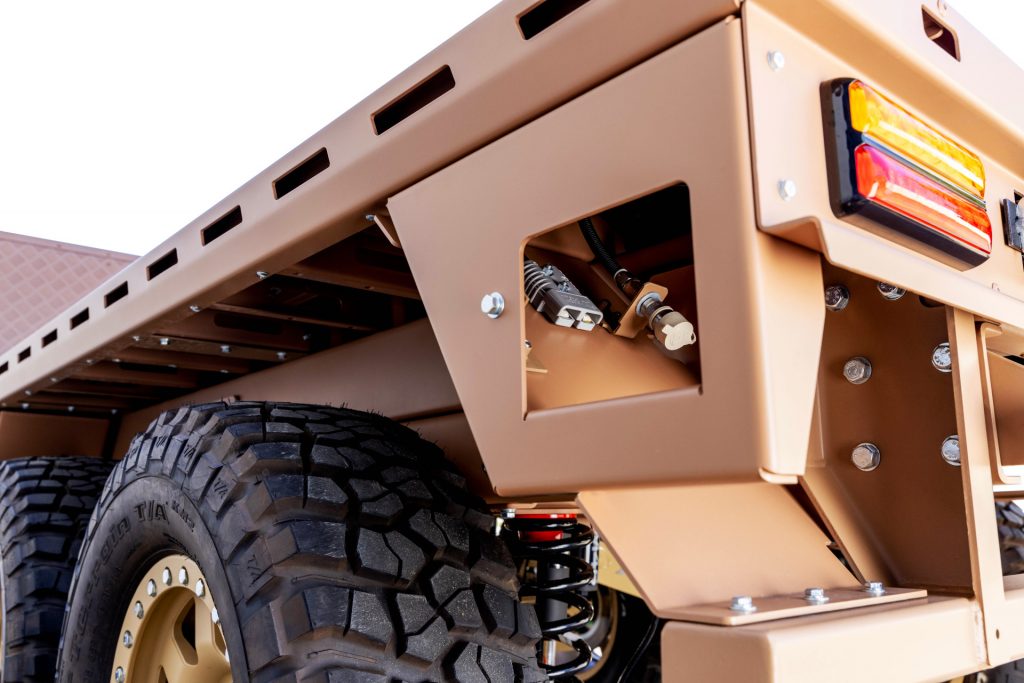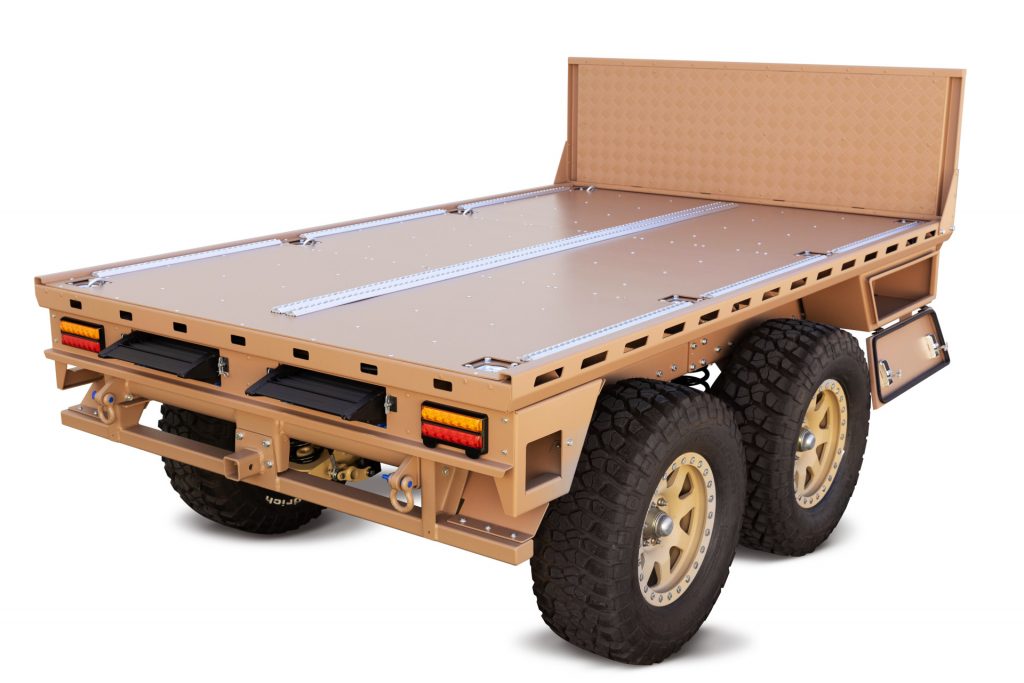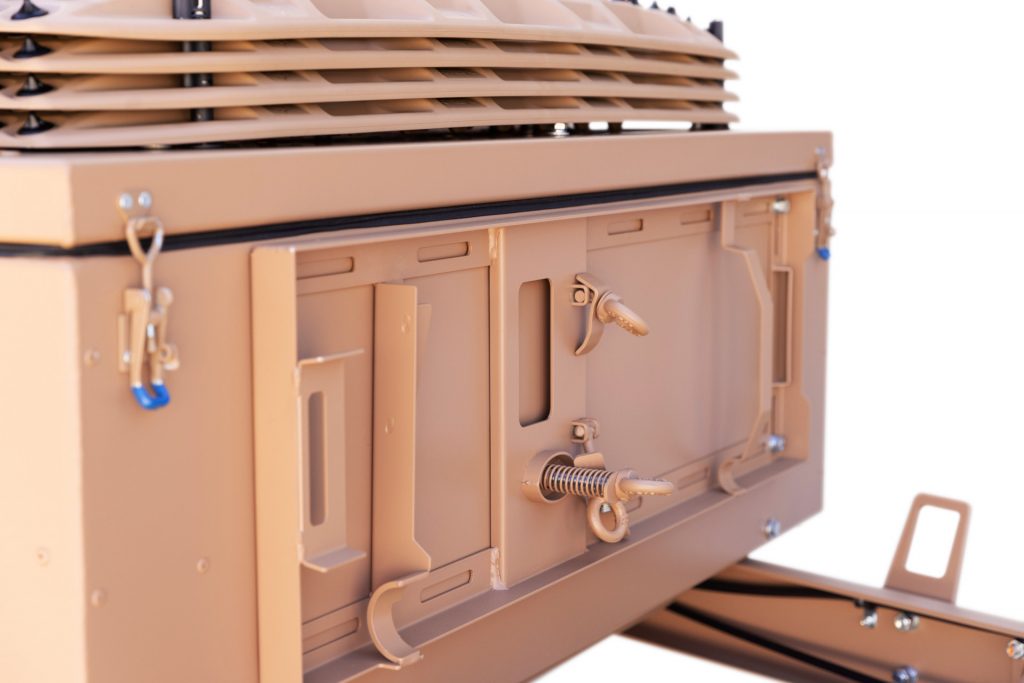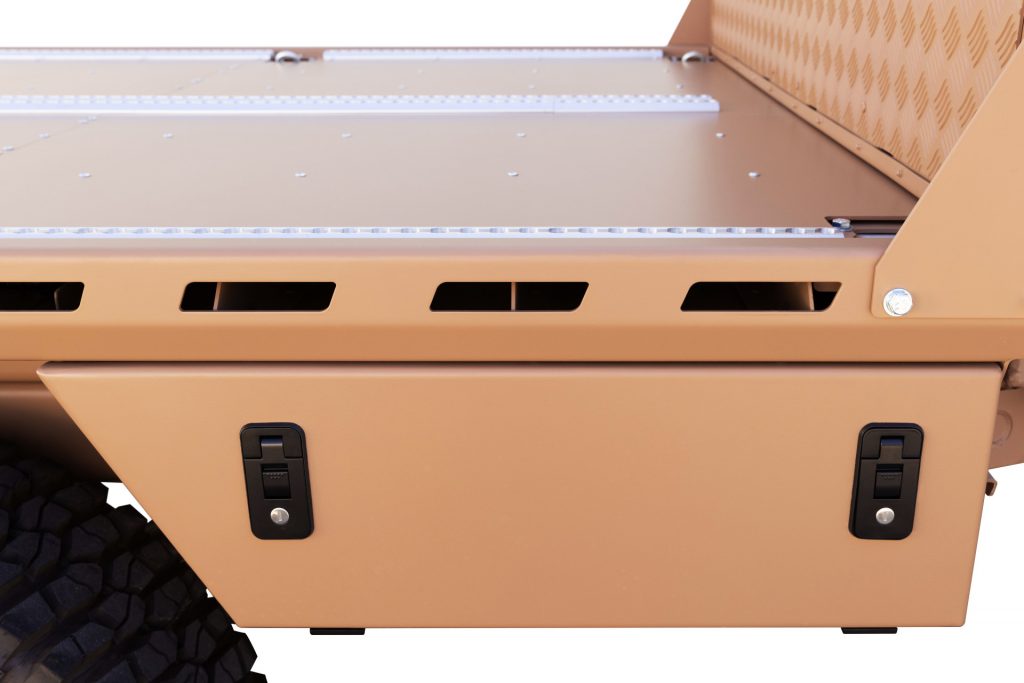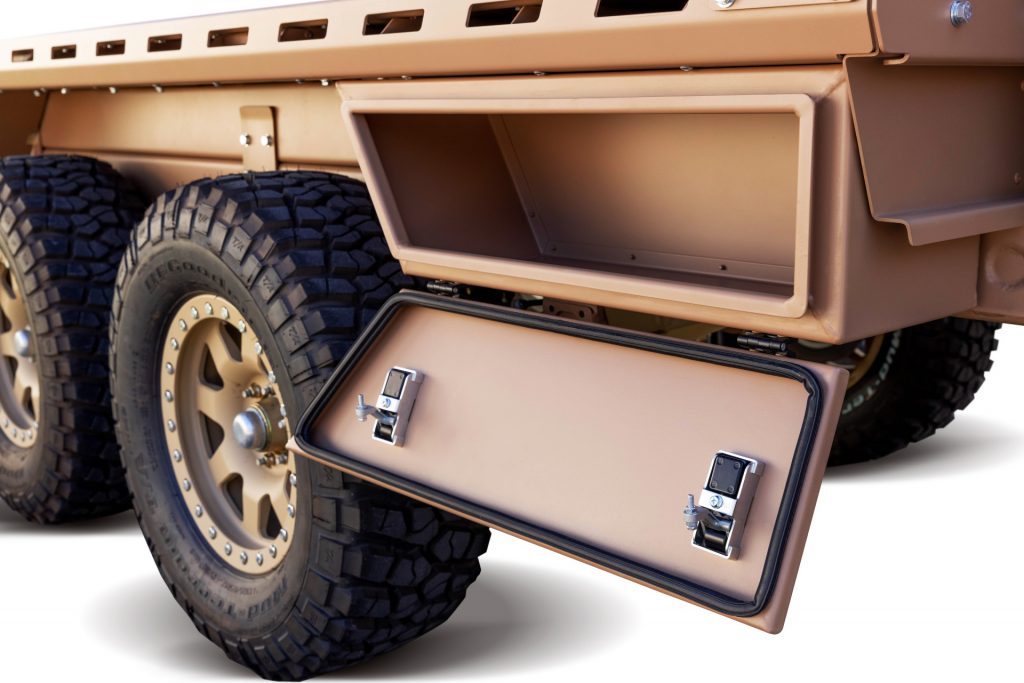 Please Note:
The R.A.S.V. M-H CS 4.7 listed above is a civilian version of our "Medium – Heavy Duty, Tactical Flat Deck Trailer" and may not include equipment and accessory options available with our Military Only models.
Thank you for visiting our Off Road Camper Trailer website.
If you would like to know more about our Trailers, or 4WD Products, you can request more information via the
Contact Us Page or by calling on the number below.
Phone Jason on 0488 069 731