Introducing the all-new REMOTE AREA SUPPORT VEHICLE (R.A.S.V.) Off-Road Camper Trailer from Off Road Designs.
"To Be Released early 2024"
The ultimate solution for adventure seekers who demand rugged reliability, versatility and comfort off road.
Pricing from $48,900.
Proudly designed, developed and built in Australia, this heavy-duty off-road camper trailer is bursting with features that set it apart from the rest. With its reinforced chassis, heavy-duty independent coil spring suspension, high clearance off-road tires, versatile and customizable design, the R.A.S.V. is the perfect choice for those who want to explore the great Australian outdoors in style and comfort.
Based on tried and tested military trailer designs used by our sister company Land Force Defence, the R.A.S.V. is built to conquer even the toughest of terrains. Its spacious interior is designed for ultimate storage and convenience, and it offers ample space to bring along all your gear, supplies, and other equipment.
With the latest technology, including optional solar panels, 240v & 12v off-grid power, internal and external LED lighting, and 140 liters of water storage for cooking and showers, you'll be able to enjoy all the comforts of home, even in the middle of nowhere.
R.A.S.V. – GX SINGLE AXLE.

The R.A.S.V. Off-Road Camper Trailer is the ultimate off-road adventure vehicle.
The R.A.S.V. (Remote Area Support Vehicle) offers a comfortable and convenient sanctuary even for the most daring adventurers, allowing them to feel at home even in the most rugged of environments.
A heavy-duty off-road trailer is an essential tool for anyone who needs to transport gear and equipment into the middle of nowhere. These trailers are designed to handle the harshest conditions and toughest environments, and are built to withstand impacts, resist corrosion, and protect their contents from dust and water.
With large, heavy-duty off road tyres, military suspension system, high ground clearance, and waterproof dust seals, these trailers are the perfect solution for anyone who needs to travel off the beaten track in the harsh Australian outback.
Whether you're a seasoned overland explorer or simply need a reliable way to transport equipment, a heavy-duty off-road trailer is a must-have for anyone who wants to tackle Australia's rugged terrain.
R.A.S.V. – GX SINGLE AXLE INCLUSIONS.
187 Ltr Front aluminium slide out storage box.
Twin Rear jerry can mounts.
Rear canopy ladder and backing plate.
Twin rear aerial and led light mounts.
Single jery can mount on front of draw bar.
Front LED light mount.
Front canopy aluminium stone guards.
4 – Corner Canopy lifting points.
160 ltr front passenger side pull out fridge slide.
Large pull out Driver Side storage drawers.
Electrical control box & battery management system with USB, ACC and 12v Andersen plug charging points.
240v 400w inverter.
Red Arc Battery Charger.
12v – 120AH AGM battery.
Twin Internal battery tray.
140 ltr water tank.
Pressure activated water pump.
External inlet and outlet water points.
Internal air recirculating fans in fridge freezer compartment.
Andersen plug 12v power outlets inside fridge compartment.
Air pressurisation vent and dust filter.
1.3m drop down kitchen work table.
Kitchen storage shelves.
4 – Internal dual colour press button LED lights.
Rear tow coupling adapter point.
Rear heavy duty recovery points.
Rear stabiliser legs.
270* awning.
Twin awning mounts.
Choose between a hot dipped galvanised chassis or fully powder coated steel chassis rails.
R.A.S.V. – GX SINGLE AXLE UPGRADES.
Wild Land Roof Top Tent.
Side door mounted axe and shovel mounts.
ARB twin air compressor.
Tyre inflation and deflation system.
Twin 125 Ah Lithium Battery Upgrade.
180 Ltr Pelican case mounted on top of front storage box.
2 – Rear mounted work lights.
Front LED work light.
Draw bar step up platform.
Front canopy two step fold away roof top tent ladder.
3000 Watt 12v / 240v inverter
Passive under body lighting.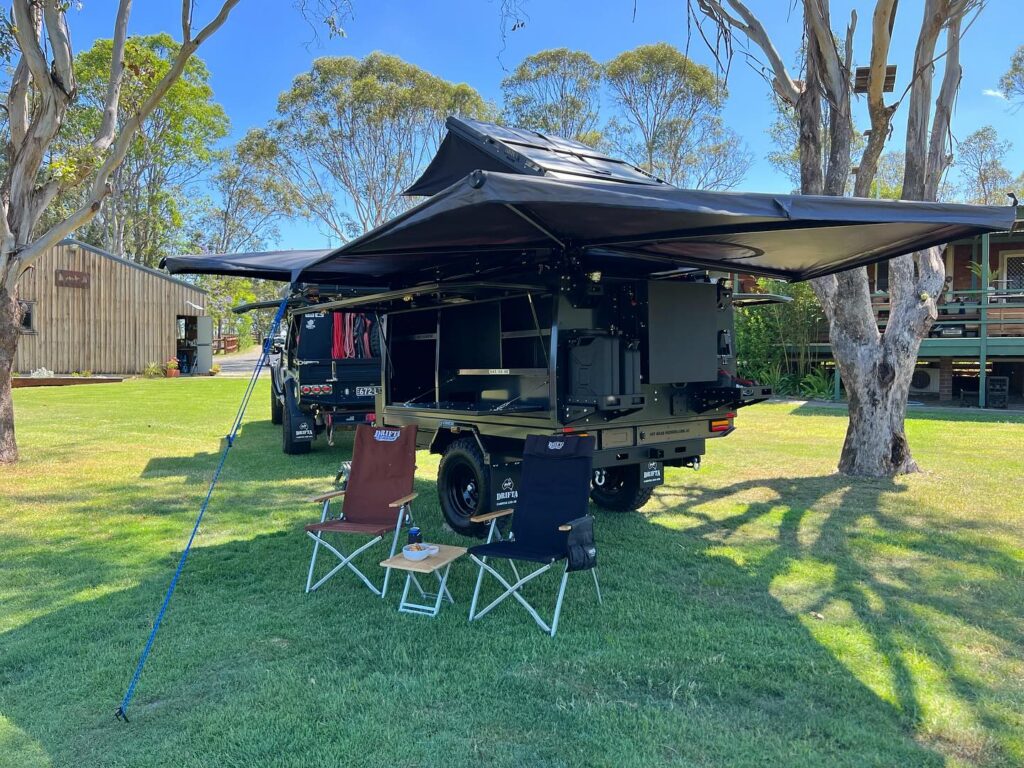 It all starts from the ground up
with our Unique, Military Off Road chassis & Suspension system.
Our Off Road Camper Trailers are significantly different to most other off road trailers on the market. They have been specifically designed and engineered to handle rugged off-road conditions. Unlike other camper trailers that may struggle in rough terrain, these trailers are built with high-quality materials and equipped with features like reinforced chassis bracing, heavy-duty independent military suspension systems, and large off-road tires to provide maximum stability and braking power. Off Road Designs R.A.S.V GX camper trailers feature unique and innovative design elements to enhance the camping experience.
One of the main design features of our trailer frame is the Land Force Defence Military Transport Trailer Chassis. Which uses 125 x 75mm heavy duty chassis rails that run the full length of the trailer chassis giving the body and sub frame maximum support as it negotiates rough off road terrain. The galvanised chassis is made of laser cut box section cross members and open ended rectangular hollow section steel allowing for easy wash down and cleaning, with no closed in areas where mud, sand and salt can get trapped and cause corrosion.
The trailer chassis also comes with a large 140 ltr water tank mounted above the suspension, through the mid section of the chassis.
Sitting above the main chassis you will find another secondary chassis sub frame that supports the aluminium, monocoque trailer body.
Unlike other trailers, the R.A.S.V. uses a modular chassis and body constructions style. Where the body is separated from the chassis with the use of a 125 x 50 x 3mm RHS sub frame. This allows you to lift and remove the body from the chassis giving you access to wiring looms, water tanks, water lines etc for maintenance and future upgrades.
Remote off-road exploration is what this trailer was made for.
Being conscious of the restricted maneuvering area on off road tracks we have carefully thought through the body design, dimensions and over all ground clearance. Allow you to venture out into areas that conventional off road caravans and off road camper trailers simply wouldn't be able to fit.
By keeping the trailer dimensions within the width of most tow vehicles we have also been able to increase the maneuverability off road through tight areas, along narrow tree lined outback tracks, or through tight twisting mountain roads. Keeping the camper trailer dimensions in line with the tow vehicle also improves vehicle handling and fuel efficiency. By reducing the amount of wind and drag that you are likely to encounter during higher speed on road travel.
Trailer Body Construction.
Each of our aluminium trailer bodies come fully powder coated inside and out with a 40mm x 40mm x 3mm galvanised steel sub frame attached to 125 x 50 x 4mm C section Aluminium side rails.
The fully monocoque constructed bodies are made from high grade 2.5mm laser cut and CNC formed aluminium plate. We also assemble all of our aluminium components with 6.4 mm structural rivets and incorporate strategically welded joints through out the design to improve over all strength and flexibility.
The R.A.S.V. – GX monocoque body is made up of 4 large individual aluminium storage compartments. Which are all interconnected by internal ventilation openings to allow for even air pressurisation through out the entire body. The positive air pressurisation is achieved with the use of an external air pressurisation system with dual serviceable air filters. Keeping the entire trailer free from dust on even the toughest outback roads. The R.A.S.V. trailer bodies are equipped with 2 strut-assisted doors, offering convenient access to all of your gear. Each door is fitted with internal bracing to prevent flexing under load, and are equipped with keyed-alike, lockable black whale tail compression door latch handles and locks. All of the doors have also been fitted with heavy-duty die cast hinges, as well as rubber dust seals to keep the interior free of dust.
Storage Draw Options.
he rear storage area of our Aluminium trailer body is designed to accommodate all your gear. It features a spacious pull-out top draw with cargo tie-down points, as well as a side and rear guard to secure items and prevent them from rolling forward or dropping down into the battery and service compartment below. The large slide-out bottom drawer is a great solution for storing large, bulky pieces of equipment while keeping everything organized and easily accessible. With a maximum weight capacity of 175 kilograms, this spacious storage area provides ample room to carry all the essentials for off-road expeditions.
Powder coat finish for enhanced protection:
A powder coat finish provides a durable and long-lasting protective layer that helps guard against scratches, chips, and other forms of damage. This helps to maintain the appearance and longevity of the trailer for years to come.
Kitchen and food preparation area.
The large L-shaped kitchen of the R.A.S.V. has been designed to provide space and functionality for outdoor cooking and food preparation. The fold able kitchen worktable, which extends down in front of the internal shelves, offers a large 1.4 meter x 600mm surface that provides ample room for food preparation, cooking, and dining. The optional 65 Ltr fridge-freezer, located to the left of the kitchen, is mounted on a lockable draw slide for easy access to food and cold beverages. With all of these features, the R.A.S.V. is well-equipped to handle all of your outdoor food and beverage needs, making it the perfect choice for short or extended travel.
Battery and Water Storage.
Behind the rear storage draws is an Internal battery storage area and tray which can hold up to 2 – 120 aH N86 Batteries, as well as a 140 Ltr under tray water tank and 12 volt water pump system.
Battery Management System
BM25 Battery and Solar Management system.
Narva Fuse Box for Outlet Protection.
Redarc BCDC 1225D Charger.
NASA BM-1 Voltage Display Unit.
Redarc 12v Solar Charging.
Dual Anderson Outlets.
Choice of Cigarette Lighter, Merit Engel or USB outlets.
6-Way LED Switch Panel with Fuse Protection ( for Lighting / Accessories – water pumps. )
3 x Waterproof High Amp Buss Circuit Breaker.
400 w 240v Inverter.
Water tank Gauge.
Trailer Electrical Fit Out
7 pin plug for trailer chassis lighting and electric brake wiring.
Andersen vehicle charging plug to trailer batteries.
1 – 120 Ah AGM deep cycle trailer battery.
Optional 150 watt roof top mounted solar panel.
Optional Andersen plugs for roof top solar panels and power to the roof top tent.
Dual colour press button led lights mounted internally to each door.
Two Optional rear mounted external led work lights.
One optional front mounted external led work light.
Twin rear aerial and work light mounting brackets.
Two internal car fridge recirculating cooling fans.
Land Force Defence Off Road Suspension.
With its Heavy Duty design, the Land Force Defence coil spring suspension system is the go-to option for those seeking the best all-terrain suspension for their camper trailer. Our experienced in-house engineering team has meticulously crafted the entire system to provide unparalleled performance in even the toughest of conditions.
This makes the R.A.S.V. an ideal choice for anyone who needs a trailer that can withstand heavy-duty off-road use and withstand harsh outback conditions in remote areas. With its robust 63mm stub axle, extra-large 2 or 3.3T VC bearing combination, premium twin shock absorbers, and lockable toe and camber adjustment, you can enjoy peace of mind knowing that your trailer is built to last. And, if your needs change over time, the interchangeable suspension components can be easily upgraded to accommodate your changing requirements. With the option to upgrade to air bag and disc brakes variants, the R.A.S.V. provides versatility and longevity, making it an ideal choice for anyone who requires a reliable, heavy-duty off-road trailer.
TRAILER WEIGHTS AND DIMENSIONS
"The R.A.S.V. Off Road Camper Trailer is a lightweight option, weighing in at just over 1300kg, compared to other similar, yet much heavier off-road camper trailers available in the market."
TARE: From 1,100kg.
ATM: 1,950 kg. to 2,800kg Depending on spring rating.
Ball Weight: 126kg.
Total Length: 4.8 M including rear Jery Can Mounts
Width: 1.85 M
Height: 1.950m excluding roof top tent and awning.
Internal Storage Capacity Approximately: 4,000 LTRS
MAIN CHASSIS & UNDER BODY
Cruise Master DO-35 Off Road Trailer Hitch.
Full length 4.7 mtr, 125 x75 x 4mm Duragal or hot dipped Steel Chassis.
1.8 mtr frontal draw bar length.
Twin rear heavy duty recovery points.
Interlocking chassis cross members.
Trailer hand brake cables.
Front hand brake lever bash plate.
Front D Shackle recovery point.
Under body spare tyre mount.
ARK Heavy Duty pin locking, jockey wheel and swivel bracket.
STANDARD POWDER COAT COLOUR OPTIONS
Trailer bodies are usually coated with Pro Texture Black, non scratch finish with doors colour matched to the following colours.
ARMY GREEN
GRAPHITE GREY
ANTARCTIC WHITE
BLACK ONYX PEARL
OPTIONAL TOYOTA GRAPHITE 1G3
Trailer body colours can also be customised to any of the "Standard" Dulux powder coat colour range on request.
OPTIONAL EXTERNAL ACCESSORIES
Wild Land Roof Top Tent.
270* awning.
Side door mounted axe and shovel mounts.
Side door mounted Maxtrax mounts.
ARB twin air compressor.
Tyre inflation and deflation system.
125 Ah Lithium Battery Upgrade.
Twin under tray front storage boxes.
180 Ltr Pelican case mounted on top of front storage box.
2 – Rear mounted work lights.
Front LED work light.
Passive under body camp site lighting.
TRAILER RUNNING GEAR
1 – 2,250 kg Independent Coil Spring Suspension unit.
2 – 12 inch electric drum breaks.
4 – Twin, Heavy duty large bore off road shock absorbers.
125 x 75 x 4mm galvanised box section trailer chassis.
MAIN CHASSIS REAR
2 Water proof resin filled LED trailer lamps.
Rear hitch mounting point.
Twin under body Recovery Points.
WHEELS & TYRES
3 – 265 / 7 5 / R 16. All terrain tyres.
3 – 16 x 8 " Zero off set steel rims.
5 or 6 stud Land Cruiser Stud Pattern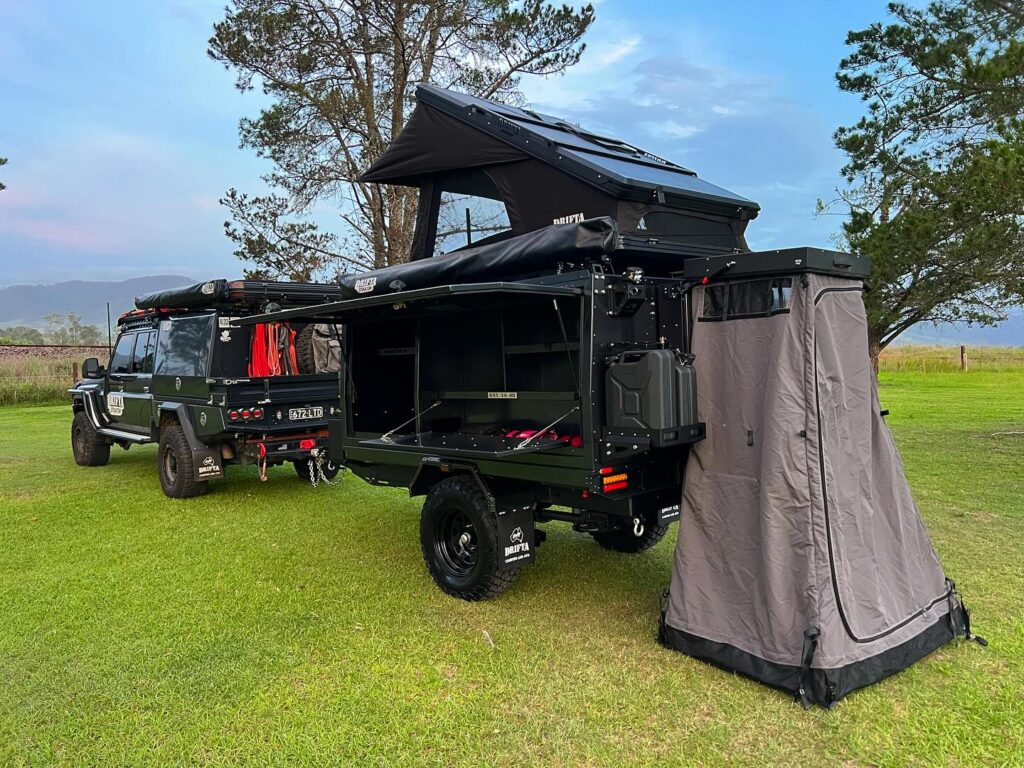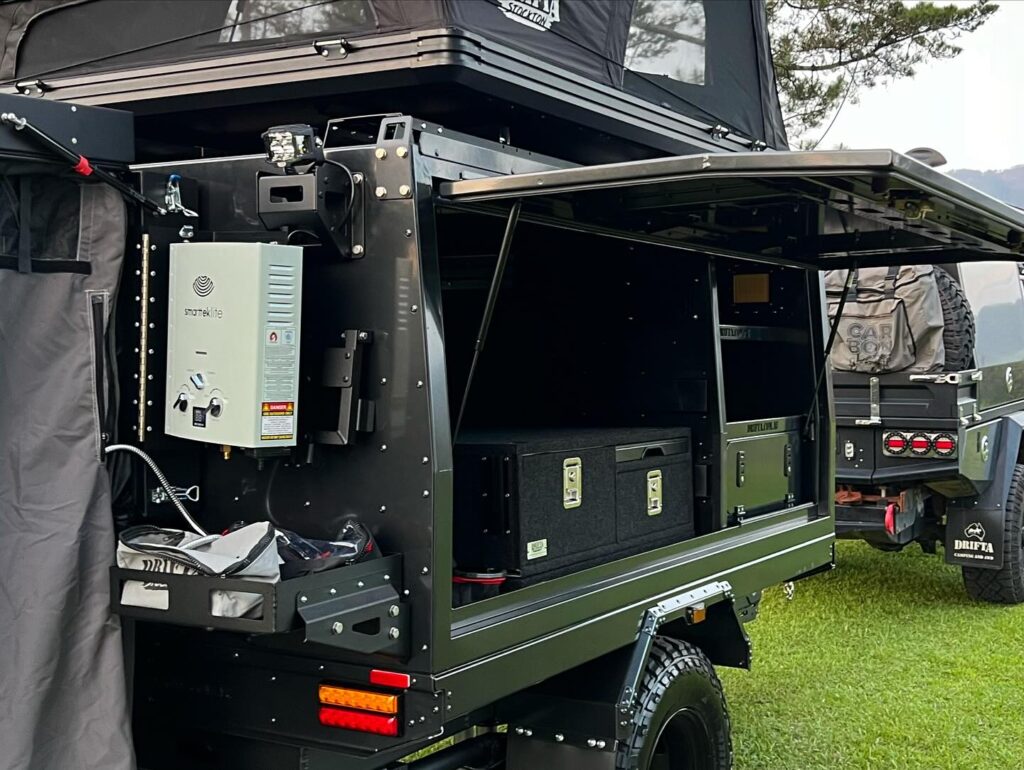 Thank you for visiting our Off Road Camper Trailer website.
If you would like to know more about our Trailers, or 4WD Products, you can request more information via the
Contact Us Page or by calling on the number below.
Phone Jason on 0488 069 731