IKAMPER SKY CAMP MINI
NOW AVAILABLE IN BRISBANE
Ikamper Sky Camp Mini – The new 2 Person Version of the Best-Selling Sky camp
---
The Ikamper Sky Camp Mini offers the same quick setup (1 minute!) as the Skycamp, but in a shorter expandable hard shell:
Perfect for the bed or cab of your truck, for a smaller vehicle, or for saving space on your roof.
ikamper Sky Camp 2 Person Roof Top Tent.
Sky Camp Mini . (Rocky Black / Black & Gray) – $5,830.00
Your Home Away From Home.
1 Minute Setup, Comfort for 2
---
Setup takes less than a minute, and so does take-down. The Skycamp Mini comes equipped with a comfortable memory foam mattress and iKamper's signature world map design.
LIGHTWEIGHT, FITS ON ANY VEHICLE
Weighing in at only 57kg (125lbs), the Skycamp Mini can fit on any vehicle: compact cars as well as short bed or truck cabs.
iKamper's Signature World Map
---
The interior of the Skycamp Mini's hard shell is lined with quilted insulation to reduce condensation. It also features iKamper's signature world map, indicative of our globally-shared love for travel.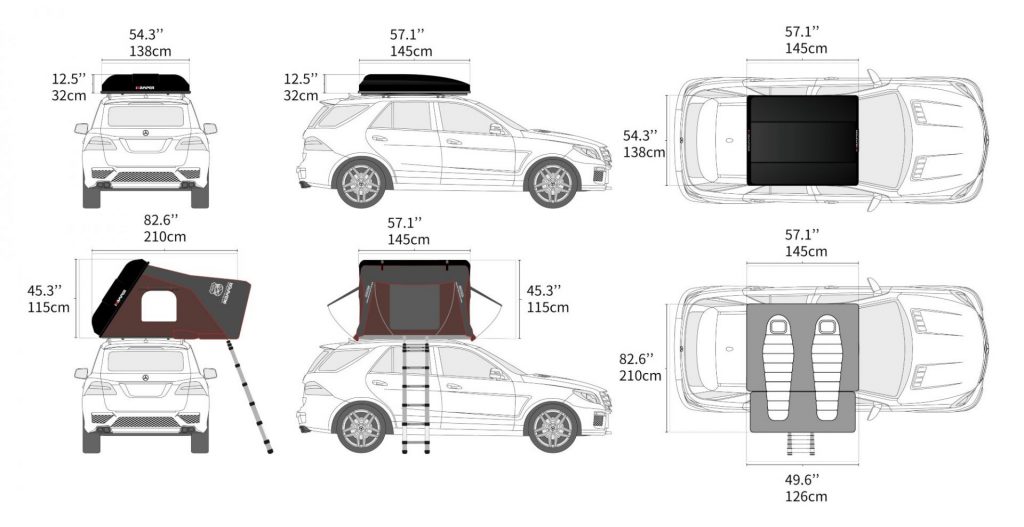 Thank you for visiting our website.
If you would like to know more about out Trailers, Roof Top Tents or 4Wd Products, you can request more information via the Contact Us Page or by calling on the number below.
Phone Jason on 0488 069 731